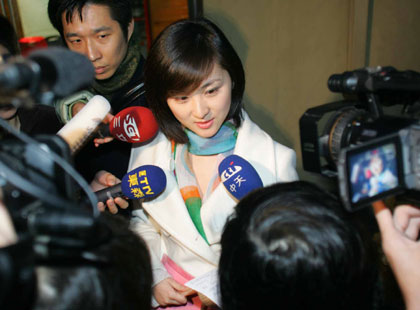 A girl participant of the "love boat" matchmaking event talks to reporters before boarding the cruise in Shanghai November 25, 2006. She is one of the girls responding to the matchmaking event for millionnaires. [newsphoto]



SHANGHAI -- Educated, overworked and looking for love, members of China's new rich gathered for what was touted as the country's first dating cruise -- open only to men worth at least 2 million yuan (US$250,000; euro195,000).

The cruise, organized Saturday by a matchmaking Web site, illustrates a growing phenomena: Well-educated and increasingly affluent young Chinese are having a hard time finding partners.

Xu Tianli, CEO of Web site www.915915.com.cn, said he staged the event -- tickets for which cost 28,800 yuan (US$3,600; euro2,750) -- as a public service for his site's members.

"We're the country with the world's biggest population, so marriage is a serious concern, especially for wealthy men who don't have time to meet anyone," Xu said.

Female participants had to be college educated and undergo a rigorous screening process. Xu said participants had been narrowed down from a list of 408 applicants, 119 of them men.

The participants planned to pass the evening cruising the Huangpu River aboard the Captain One, a faux square rigger bedecked with pink balloons and fairy lights hanging from its mast. With heavy rain falling, it wasn't clear how many of the expected 50 attendees would show up.

Organizers refused to permit photographs or even interviews with participants, although one man who signed up said he considered the idea behind the cruise "extremely natural."

"This really is the most natural way to meet someone because everyone is here for the same reason. Out in the world, you can't just walk up to someone and ask if they're single," said the man, a manager in his late 30s who declined to give his name.

With young Chinese -- rich or not -- spending more time on work and education and less on romance, demand is soaring for dating services and other nontraditional matchmaking techniques.

Xu said his site's revenues rose 35 percent this year, although he gave no figures. He said his members are 35 percent men, 65 percent women. The site allows members to post photographs and brief introductions and also counsels singles on how to find a match.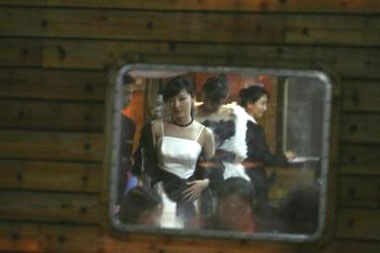 Participants of the 'love boat' matchmaking event are seen inside a boat before it sets sail for a river cruise in Shanghai November 25, 2006. [Reuters]



Lin Jingjing, a manager of another matchmaking site, www.Marry5.com, based in the southern business hub of Guangzhou, said business is also booming, but declined to give specifics.

"We've found that white-collar professionals aged 25 to 40 have the toughest time of all finding a partner," said Lin.

"Most of them are highly educated, with a good jobs and salaries. But they're too busy with work and their circle of friends and contacts is too small. That's a big problem," Lin said.

Along with the Internet, less high-tech means are also being employed to help couples pair up. In Beijing, Shanghai and other cities, parents gather in parks armed with their children's photographs and resumes in hopes of meeting another parent with a suitable match.