FM: Hu's visit a diplomatic milestone
(Xinhua)
Updated: 2006-11-27 06:58
Chinese Foreign Minister Li Zhaoxing on Sunday hailed President Hu Jintao's Asian tour as a new milestone in efforts to foster friendly relations with neighboring countries, saying remarkable successes had been achieved during the visit.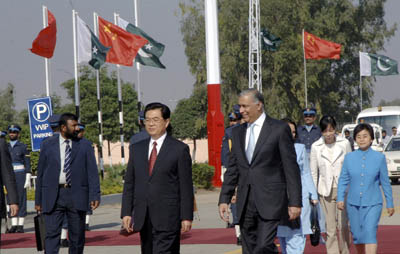 Pakistan's Prime Minister Shaukat Aziz (R) bids farewell to China's President Hu Jintao (C) at Lahore airport in Lahore November 26, 2006. Chinese President Hu ended a four-day visit to Pakistan on Sunday during which he promised to work with Islamabad to elevate strategic ties to "a new high" and strengthen trade and economic cooperation. [Xinhua]


President Hu's four-nation tour has deepened the friendship with these countries, enhanced their mutual trust, expanded mutually beneficial cooperation and helped chart the course for further development of the relationships between them, Li told Chinese reporters accompanying Hu on his way back home from the 12-day trip.

During the tour, the Chinese president attended the 14th Asia-Pacific Economic Cooperation (APEC) Economic Leaders' Meeting in Hanoi, Vietnam, and then paid state visits to Vietnam, Laos, India and Pakistan.

On the sidelines of the APEC meeting and during his state visits, President Hu conducted in-depth, substantial and friendly talks with foreign leaders, exchanging views on bilateral ties and international and regional issues of common concern and expounding on China's policies on Asia-Pacific cooperation, the Chinese top diplomat said.

The tour also witnessed the signing of 54 documents on cooperation between China and other countries in various fields and the publication of five joint statements and declarations, the minister said.

At APEC's meeting, Hu put forward a blueprint for building a harmonious Asia-Pacific region and realizing common prosperity, Li said.

The president stressed APEC should focus its efforts on promoting economic cooperation while supporting the development of the multi-bilateral trading system, Li said.

In making new endeavors to promote economic and technological cooperation, Hu said, APEC should strive to realize the Bogor goals, which were adopted by APEC leaders at their 1994 meeting in Bogor, Indonesia, with an aim to achieve free and open trade and investment in the Asia-Pacific region by 2010 for industrialized economies and 2020 for developing ones, according to the minister.

During the APEC meeting, Hu also reached common ground with leaders of the United States, Russia, Japan, South Korea, Australia and Chile on ways to further develop bilateral ties, Li said.

On the nuclear issues of the Korean Peninsula and Iran, Hu made clear China's stance on peacefully resolving the issues through diplomatic means.

All the four nations President Hu visited are China's important neighbors, Li said. To consolidate and advance good-neighborly and friendly relations with them is of great significance to China's efforts to create a good surrounding environment, conduct cooperation of mutual benefit and achieve common development. It is also of great importance to safeguard and promote peace and development in Asia as a whole, the minister added.

During his visits to these countries, President Hu expounded on his proposals for the strategic and long-term development of bilateral relations, which gained positive responses from his hosts and enhanced political trust between China and those countries, Li said.

Noting economic and trade cooperation is a key component of China's relationships with the four countries, Li said President Hu had discussed the issue with the leaders and several relevant agreements were signed during his visits.

-- China and Vietnam signed a number of cooperation documents during the visit, marking out the framework of bilateral economic cooperation in the next 5 to 10 years. The two sides agreed to promote cooperation in big projects, expand bilateral trade and work together to push forward the trade and investment negotiations between China and the ASEAN free trade zone.

-- China and Laos pledged to expand bilateral trade and enhance cooperation in the fields of investment, communications, transportation, infrastructure, energy and mining.

-- China and India signed a pact on investment promotion and protection, agreeing to strengthen mutually beneficial cooperation in the areas of information and communication technology, energy, infrastructure, science and technology and agriculture. The two sides also set a target of raising the annual volume of their bilateral trade to 40 billion U.S. dollars by 2010.

-- China and Pakistan signed a free trade agreement (FTA) that is projected to triple their current bilateral trade to 15 billion dollars within five years and to promote bilateral cooperation in agriculture, transportation, energy, finance and information industry.

The Chinese people and the peoples of the four countries are good neighbors, good friends and good partners, cherishing the common aspirations for deepening their friendship, Li said.

President Hu's four-nation Asian tour marks a new milestone on the road of good-neighborliness between China and these countries,he said.
Most Commented/Read Stories in 48 Hours