China and Pakistan signed a wide-raning joint statement in Islamabad Saturday on bilateral relations, international and regional situation, economic and trade cooperation, military cooperation and antiterrorism.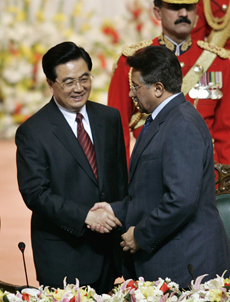 Pakistan's President Pervez Musharraf (R) shakes hands with Chinese counterpart Hu Jintao in Islamabad November 24, 2006. China signed a free trade pact with old ally Pakistan on Friday as Hu promised to bolster ties to a new level.[Reuters]


The joint statement was signed during Chinese President Hu Jintao's current visit to Pakistan.
The statement hailed Hu's current visit in Pakistan as being highly successful and recalled the history of development of friendly relations and cooperation between China and Pakistan.
The statement particularly highlighted the importance of relations and cooperation between the two countries.
Consisting of 30 points, the statement specified that China and Pakistan will further strengthen high-level exchanges in various areas and promote bilateral cooperation in such fields as trade and economy, manufacture, agriculture, information industry, infrastructure construction, human resources development, banking, tourism, national defense, antiterrorism, and international and regional relations.
In the statement, China reaffirmed its respect for Pakistan's independence, sovereignty and territorial integrity while Pakistan reaffirmed its adherence to the one-China policy and its full support for China's peaceful reunification.