Asia's largest revolving floating crane has been handed over for salvage operations on the South China Sea.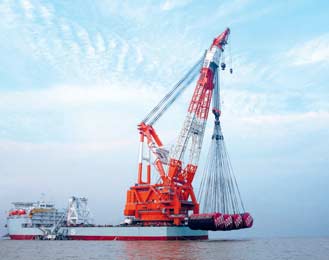 The derrick, called Hua Tian Long, was developed by the Shanghai Zhenhua Port Machinery Co Ltd (ZPMC), a leading manufacturer of cranes and large steel structures. It was designed with a lift power of 4,000 tons and delivered to the Guangzhou Salvage Bureau earlier this week.
It marks a milestone in China's capability to design and manufacture colossal marine equipment on its own. And the barge itself provides badly needed devices to help explore the marine oil frontier and assist salvage initiatives.
Guan Tongxian, ZPMC's chief executive offi cer, told China Daily Shanghai & Delta that his company will design next year a revolving floating crane with 7,000 tons of lift power, currently the greatest in the world.
On Tuesday, the 165-metre-long, 48-metre-wide barge slowly lifted a 4,000-ton load and revolved steadily as representatives from the ZPMC, the salvage bureau and municipal government, as well as college professors, looked on.
According to the company, traditional vessels with fixed floating cranes could not venture out to sea, as they might be damaged in potentially severe weather. But Hua Tian Long, with a revolving crane that can be laid down in case of huge gusts and waves, could be dispatched to conduct multiple tasks such as salvage and oil exploration.
"It's totally designed and manufactured by Chinese intellectuals on their own, and it filled in the gap in this regard," Guan said.
The derrick will be used to recover a sunken vessel from the Song Dynasty (960-1127) in the South China Sea, before it possibly being employed to help explore marine oil fields.
Modern devices are needed as companies are venturing further out to sea, drilling deeper than ever in their quest for energy as oil consumption grows and access to most oil-rich regions becomes increasingly restricted.
A multi-functional firm, ZPMC provides products including quayside container cranes, rubber-tyred gantry cranes (RTGs), bulk-material ship loaders and un-loaders, bucket-wheel stackers and re-claimers, portal cranes, floating cranes, engineering vessels and large steel bridge structures.
So far, as per its order book, ZPMC has an outstanding supply record of 1,000 quayside container cranes, 1,500 RTGs and numerous non-standard large port machineries.
According to a survey by the British World Cargo News magazine,ZPMC had the largest order book for large container cranes during the past seven years.
ZPMC designed and manufactured the world's fi rst set of quayside container cranes that can handle twin 40-inch containers with dual hoists. The double trolley quayside container cranes designed by ZPMC are also taking leading positions in the world.
ZPMC has been listed at the Shanghai Stock Exchange for A and B shares, and the company's net assets have reached US$450 million.