China, Pakistan to enhance strategic partnership
(Xinhua)
Updated: 2006-11-24 17:05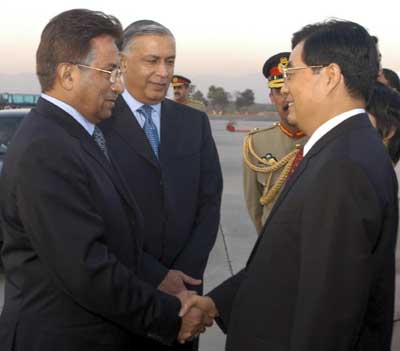 Pakistan President Perves Musharraf (L) greets China's President Hu Jintao upon his arrival at a military base in Rawalpindi, near Islamabad, November 23, 2006, as Prime Minister Shaukat Aziz (2nd L) looks on. [Reuters]



ISLAMABAD -- Chinese President Hu Jintao and Pakistani President Pervez Musharraf agreed here Friday to continue to enrich the contents of bilateral strategic and cooperative partnership by expanding practical and reciprocal cooperation in various fields.

During their talks, the two presidents spoke highly of bilateral all-weather friendship and all-dimensional cooperation in such fields as politics, economy, trade, military, science, technology, culture and education, as well as in international and regional affairs.

Hu said the Chinese side appreciates Pakistan's support for China on such issues as Taiwan, Tibet, human rights and fighting against terrorism in the past years.

The Chinese side will, as always, support Pakistan's efforts to safeguard national independence, sovereignty and territorial integrity, noted Hu.

Musharraf said this visit is of great significance as it coincides with the 55th anniversary of bilateral diplomatic ties, and he is convinced that this visit will make important contributions to the development of bilateral existing relations of sound cooperation.

Hu made a five-point proposal for the further growth of bilateral relations.

The first is to expand exchanges at various levels concerning high-level contacts, and that between government departments, legislative bodies, political parties, and armed forces, as well as within bilateral consultation mechanisms covering strategy, economy, trade, science, technology, security and defense.

The second is to expand economic and trade cooperation of mutual benefit, which requires a better implementation of the bilateral free trade agreement and the development program on bilateral economic and trade cooperation.

The two sides should also pay due attention to key projects covering nuclear power station and port construction, and expand cooperation in investment, agriculture, communications, energy, finance and information.

The third is to promote exchanges in such fields as culture, health, sports, education, tourism, press, human resources development and vocational training. China will invite 500 Pakistani young people to visit China in the next five years.

The fourth is to deepen cooperation in the non-traditional security fields, explore and set up regular channels for cooperation, and jointly push for more substantial results of anti- terrorism cooperation.
The fifth is to strengthen coordination and cooperation in multi-lateral areas such as in the United Nations, Shanghai Cooperation Organization, and Asia-Europe Meeting.

Agreeing with Hu, Musharraf said Pakistan treasures bilateral relationship and looks forward to a stronger development of such relations.

He said Pakistan will work with China to better consolidate bilateral relations, hoping that both sides will strengthen cooperation in trade, infrastructure, mining, energy, power, agriculture, culture and tourism, as well as in international and regional organizations, non-traditional security and combating terrorism.

After the talks, Hu and Musharraf attended a signing ceremony for bilateral cooperative documents including an agreement on bilateral free trade area.

Hu arrived here Thursday on a state visit as Musharraf's guest.

China-Pakistan trade volume exceeded US$4 billion last year, representing a year-on-year increase of 39 percent.

Pakistan is the last leg of Hu's four-nation tour, which has already taken him to Vietnam, Laos and India.

Hu also attended the 14th APEC (Asia-Pacific Economic Cooperation) Economic Leaders' Meeting from November 17 to 19 in Hanoi, capital of Vietnam.


Most Commented/Read Stories in 48 Hours