Verdict for HK spy journalist upheld
By Xinhua
Updated: 2006-11-24 13:55
The Beijing Higher People's Court on Friday rejected Hong Kong journalist Ching Cheong's appeal and upheld his original five-year sentence for espionage.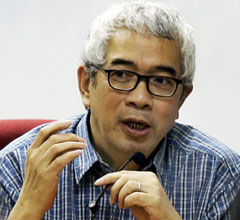 Singapore Straits Times journalist Ching Cheong speaks at an event in Singapore in this April 2, 2005 file photo. A Chinese court on November 24, 2006 upheld a guilty verdict against the Hong Kong-based Singapore newspaper reporter who was sentenced to prison for five years for spying. [Reuters]


Ching Cheong, who worked for Singapore's Straits Times newspaper, is also deprived of political rights for one year, and his personal property worth 300,000 yuan (about US$37,500) was confiscated.

The original verdict of the Beijing No. 2 Intermediate People's Court in August was "a correct application of the law and provided appropriate punishment," said a judge with the Beijing Higher People's Court.
The court fully guaranteed Ching's right of appeal, the judge said.

According to the court, Ching had become acquainted with two people, surnamed Xue and Dai from a Taiwan foundation. The court learned the foundation was actually an espionage organization, and Xue and Dai were deputies, of which Ching was fully aware.

The court heard that between May 2004 and April 2005 Ching supplied Xue and Dai, through fax and email, with information involving state secrets and intelligence he had received from his contacts in Beijing. Ching accepted 300,000 HK dollars from the organization.

A document released by the court during the first trial said the penalty was a mitigated one considering that after Ching Cheong was detained, he voluntarily confessed more espionage activities than those the state security departments had known.

He also presented his notebook computer, which contained evidence of espionage, to the authorities, according to the document.

The court document showed that Ching was born on December 3, 1949.

After of the first trial of the case in August, Hong Kong Special Administrative Region Chief Executive Donald Tsang said his government must respect the "One Country, Two Systems" principle and not interfere in the law enforcement and the judicial process of the mainland, just as the mainland authorities will not interfere in the cases that fall within the jurisdiction of the Hong Kong SAR.
Most Commented/Read Stories in 48 Hours