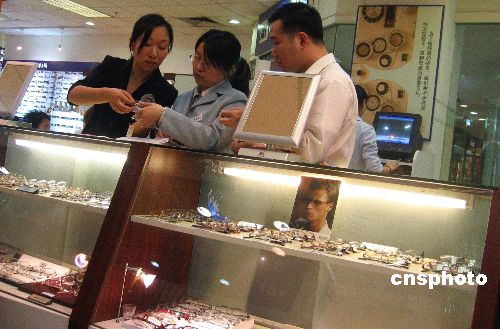 Employees tidy up the glasses on shelves at a opitcal store in Shanghai. Problems with contact solution production have caused some customers to lose confidence in contact lens solution and opt to wear glasses instead.[photo:cnsphoto]

The US-based Advanced Medical Optics, Inc. (AMO) made an announcement Wednesday that it will recall some of its contact lens solution made in China after a recent quality check for products slated for the Japanese market revealed they were not up to the asepsis standard, according to a statement posted on the company website on November 22.
Some batches of Complete Multi-Purpose Solution, Complete Blink-N-Clean and KKR (Kristal Klean Rinse) Multi-Purpose Solution were recalled, the company said in the statement.The company advised customers to stop using the solution while it works out its sanitation issues.

The AMO has suspended its two product lines in Hangzhou, east China's Zhejiang Province that supplied the products for the American, Japanese and Asian-Pacific markets from June 17 to October 31, 2006. Its Chinese factories will be cleansed and disinfected within several weeks, according to the company's website.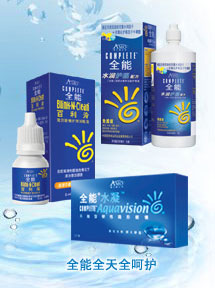 Series of the AMO 'Complete' contact lens cleaning solutions [photo:www.amochina.com]

The AMO sincerely apologized to customers and pledged to work closely with the related supervisory organizations on recall issues and produce detailed arrangements for the recalled products within one week.

A full list of the substandard solutions is attached to the company's website (www.amochina.com). Customers will soon be able to ask for refunds or exchanges. .

Frequent similar cases of problems with contact solution production have caused some customers to lose confidence in contact lens solution and opt to wear glasses instead, Chinanews.com reported Thursday.

Most of the defective products have been pulled off the shelves from the optical stores in China, the report said.

The contaminated solution can cause severe optical damage, including red eye, swollen eye, eye pain, watering and visual impairment, according to an eastday.com article that quoted information from the American Food and Drug Administration.

"We believe the problems were caused by micro organisms in the water," AMO Asian-Pacific Region legal affairs department senior director Shi Yiru said during an interview with Sohu.com on Thursday.

"We remain committed to delivering high-quality lens care products and will take all necessary measures to remedy this production-line issue," the Shanghai Daily quoted Anthony Chung, vice president of AMO Eye Care, Asia Pacific, as saying in a statement yesterday. "Moreover, we want to assure our customers that this is not related to our formulations, which have been used safely by millions of contact lens wearers."

AMO said profit and revenue this year and next will be lower than expected after inventory reductions and costs to recall stock and sanitize the plant, Bloomberg News reported.



This is not an isolated case in China. Nearly 80 Chinese citizens who claim they suffered from eye infections caused by a contact lens solution made by Bausch & Lomb planned to sue the company in the United States this July. They claim to have contracted fungal keratitis, which can lead to blindness, after using ReNu MoistureLoc multi purpose solution.
The Hydron multi-purpose contact lens solution, a famous brand in China, was also found to be defective this September. The Hydron Contact Lens Solution Co Ltd then claimed there were no quality problems with its products after re-examination.