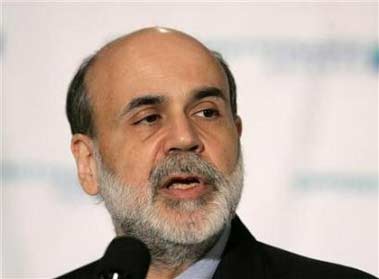 Chairman of the Federal Reserve Ben Bernanke speaks at the Opportunity Finance Network and the First Nations Oweesta meeting in Washington, November 1, 2006.[Reuters/file]


Washington - Federal Reserve Chairman Ben Bernanke will accompany Treasury Secretary Henry Paulson and other cabinet officials to Beijing next month to try to persuade China to alter economic policies, senior US government officials said on Thursday.
The 1-1/2-day visit in mid-December has an ambitious agenda to push, from urging China to let its yuan currency to appreciate further to persuading it to reduce barriers to foreign investment and crack down on piracy.
Officially it is to be the opening round of talks under the "strategic economic dialogue" announced in mid-September when Paulson visited China for economic talks.
The common thread among the topics expected to be discussed is that each is an irritant for US lawmakers and industry.
US Congress has been blaming China's currency value for its record trade deficits, saying China is keeping the yuan at a low relative value through manipulation that is costing American jobs and competitiveness.
Bernanke's role in the mission is unclear but presumably he will meet his counterpart, Chinese central bank governor Zhou Xiaochuan. The two met only last week in Australia where they attended a meeting of the Group of 20 emerging-market nations.
Creating Demand in China
China has a stockpile of foreign reserves topping US$1 trillion in the course of selling an ever growing tide of goods to US consumers.
Paulson has said that China needs to adopt policies that foster more demand at home instead of relying so heavily on exports. Bernanke and other US officials have said that it is in China's interests to seek greater trade balance because of the difficulty in managing such hefty reserves.
While it is infrequent, there is precedent for a US Treasury secretary and a Fed chairman meeting their counterparts together for economic talks.
Former Treasury Secretary John Snow and former Fed Chairman Alan Greenspan did so in Beijing in October 2005 under the auspices of a joint economic committee that the United States and China had established.
Paulson, a former Goldman Sachs chairman regarded as an expert on China with about 70 trips there to his credit, has described US-China as "the most important bilateral economic relationship in the world today."
In the process, he fanned expectation that Beijing may make some reforms by saying, at the end of his trip in September, that there were "very few differences on the principles" of the trade and currency issues that were on the table.
"Where there is discussion is on the timing." Paulson said in Beijing.