Chinese President Hu Jintao put aside his official duties on Wednesday to soak up the beauty of the Taj Mahal, the centuries-old Indian monument to love that has dazzled world leaders and celebrities alike.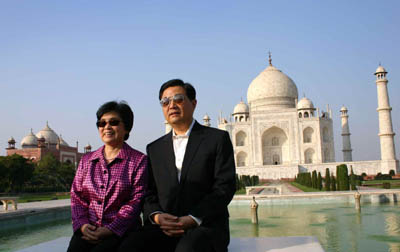 China's President Hu Jintao (R) and his wife Liu Yongqing pose in front of the historic Taj Mahal in the northern Indian city of Agra November 22, 2006. Hu said on Wednesday Beijing was not seeking "selfish gains" in South Asia and was willing to work with New Delhi to push for an early settlement to a decades-old border dispute. [Reuters]



Hu, accompanied by his wife, Liu Yongqing, strolled around the white marble monument built by Mughal emperor Shahjahan in the 17th century as a symbol of his enduring love for his wife Mumtaz Mahal.

"The wonder of the world and a treasure for human beings," Hu wrote in the visitor's book after a 45-minute tour of the monument, accompanied by dozens of Chinese and Indian officials and watched over by scores of police in the complex.

As he entered the monument complex through its east gate, Hu stopped for a moment and took a step back as he looked at the onion-shaped marble dome, as if struck by its beauty, and then smiled.

The Chinese leader, dressed in a black coat and trousers with a white shirt, was taken to the tomb which houses the marble cenotaphs of Mumtaz and Shahjahan, below which lie their graves, side by side.

Before entering the revered tomb, Hu and his wife had red shoe covers put on their feet.

The Chinese leader listened attentively as officials explained the history of the Taj Mahal, or "crown palace' in Urdu, which was completed in the middle of the 17th century after 22 years of building involving more than 20,000 workers.

Hu and his wife then sat on a marble bench with the Taj as a backdrop and got themselves clicked, a ritual millions of ordinary tourists and world leaders have followed.

Hu arrived in Agra, a crowded and polluted town 200 km (125 miles) south of New Delhi, earlier on Wednesday, with hundreds of policemen sealing off his route as well as the Taj Mahal.