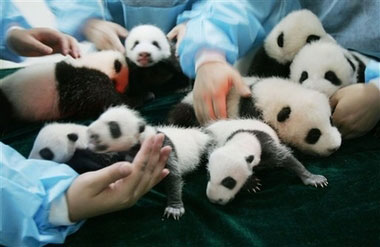 Chinese care takers display nine panda cubs, from two-week-old to two-month-old, as they prepare to feed them at the Chengdu Giant Panda Breeding and Research Center in Chengdu, China's Sichuan province Thursday, Sept. 28, 2006. [AP]


Captive animals used to lack proper socialization; with no companions around, when the male and female met for breeding "they just freaked out and fought," Howard said. Now enclosures are bigger and contain more animals.

There's also a push to keep cubs with their mothers longer, for up to two years, to give them more natural sex education.

Scientists have also learned more about sex and aggression. In the wild, Howard explains, females in heat will climb a tree while suitors below fight for her. In captivity, with no male rivals around, pandas often take out their aggression on the female.

Adds Zhang: "In the wild they have their own choices when mating. But when we breed them in captivity it's like taking two human beings and forcing them to mate."

But despite the advances, there are still only about 15 captive male adults which breed naturally. Second best is artificial insemination, and after years of study frozen semen can now be shipped around the world and applied according to a comprehensive genetic database.

Prasertsak is prepared to use both methods as he readies his couple for mating at Chiang Mai Zoo, which has rented the animals from China for research and tourism purposes.

The pressure is on. Last year Lin Hui showed promising symptoms but they turned out to be a pseudo-pregnancy, not unusual among pandas.

Will the blue movies help?

Opinions differ on the visuals, but Zhang and Prasertsak agree on the sound track.

"It's the sounds of breeding that stimulate them," Zhang said. "Pandas are just like human beings. They understand everything."




| | | |
| --- | --- | --- |
| | 1 | 2 |