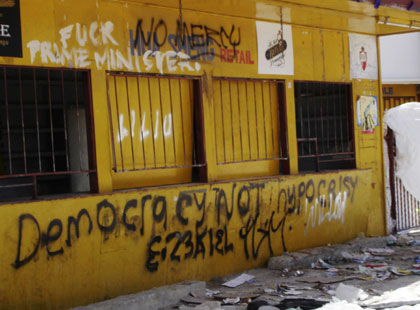 A looted Chinese-owned shop is seen in Poutaha, a village on the outskirts of Nuku'alofa, the capital of Tonga November 17, 2006. China will evacuate more than 200 nationals from Tonga on Thursday. [Reuters]


More than 200 Chinese nationals will be airlifted from trouble-torn Tonga on a chartered plane Thursday, sources with the Chinese Embassy in the Pacific island-state said.

Hundreds of Chinese made their way to Tonga's neighbouring country Fiji Wednesday to board an Air China aircraft sent by Beijing yesterday.

The plane is scheduled to arrive in Xiamen, Fujian Province, this afternoon.

Riots triggered by a disputed parliamentary reform move broke out in Tonga's capital Nuku'alofa last week, in which eight people were reportedly killed and 80 per cent of the central business district destroyed. About 30 Chinese-run stores were looted or burned down.

According to Foreign Ministry spokeswoman Jiang Yu, about 300 overseas Chinese, mostly the elderly, women and children, had sought refuge at the local embassy after their homes and business were destroyed.

Foreign troops fanned out across the riot-scarred capital yesterday, setting up checkpoints and carrying out patrols after initially securing the airport and other strategic assets.

The Australian and New Zealand forces were expanding their role at the request of Tongan authorities, whose security forces were overwhelmed by a rampaging mob.

The general security situation is "currently very benign," with no major security incidents since the troops and police arrived on Saturday, New Zealand deputy force commander Major Justin de la Haye said.

"Though order has been restored in Tonga, some of the Chinese are in a difficult situation and wanted to come home. So a chartered aircraft has been arranged at their request," Jiang said in a statement yesterday.

The ministry also sent a task force to Tonga to help Chinese taking refuge at the embassy with food and daily necessities.

Jiang said the Tongan Government had assisted in the evacuation and the country's leaders went to the embassy to express sympathy to Chinese nationals.

She also appreciated Fiji for its co-ordination and help.

As the airport in Tonga is not capable of handling planes with more than 250 seats, the aircraft has to land in a Fiji airport.

Air China has no commercial flights to Tonga so it has to take a circuitous route covering a total of 21,100 kilometres over nine countries, according to airline spokesman Wang Yongsheng.

China and Tonga established diplomatic relations in November 1998; and about 500 Chinese live there.

This is not the first time that China has activated an emergency mechanism to provided substantive relief to overseas Chinese.

The last evacuation took place in April, when more than 300 Chinese were brought home from riot-torn Solomon Islands.