BEIJING - China has disciplined officials for a chemical leak that contaminated a river and cut off drinking water and pledged action against those responsible for two other environmental disasters, state media reported on Wednesday.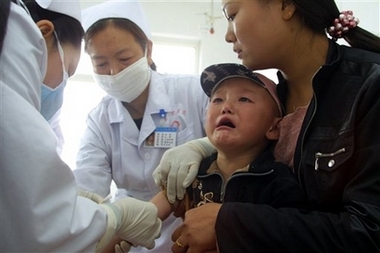 Doctors take a blood sample from a child who is believed to suffering from lead poisoning from a metal smelting plant, in Hui County in northwest China's Gansu province Monday Sept. 11, 2006. At least four children among the hundreds of people sickened by emissions from the lead smelter are likely to suffer permament brain damage. [AP]


Related readings:


fruit poisons 43 children


British police probe ex-spy's poisoning


47 children confirmed with excessive lead


Food poisoning hits 21 students in Xinjiang


250 people sick for food poisoning in Nepal


16 children suffer food poisoning


56 children sickened after eating noodles


Food poisoning victims rise to 151


143 students suffer diarrhea in Sichuan

Hu Zhirong, Party boss of Linxiang, in the central province of Hunan, received a disciplinary warning for initially protecting the polluting plants with special government documents and then being slack in investigating their problems after the spill, state radio reported.

Senior managers at the factories have already been detained.

Drinking water to the area was cut for four days in September, after the factory was discovered discharging cancer-causing arsenide directly into the Xinqiang river.

Mao Zhibin, acting mayor of Linxiang, was ordered to write a self-criticism, Vice Mayor Lu Shuhua received an "administrative demerit" and Chen Lin, director of the city's environmental protection bureau, was removed from his post as party secretary of the bureau, the report said.

The leak in Linxiang came nearly a year after an explosion at a chemical plant in northeast China poured toxic benzene compounds into the Songhua River, the source of drinking water for millions, in one of the country's worst recent environmental disasters.

A cabinet meeting chaired by Premier Wen Jiabao on Wednesday agreed to punish officials responsible for the Songhua spill at PetroChina, which owned the plant, and at the environmental protection bureau in Jilin, where it was located.

There were no details on the severity of the punishments and no officials were named in a report on the meeting carried on the government's official Web site (www.gov.cn).

The government has been trying to tighten monitoring of potential environmental hazards and curb pollution, but has conceded to being stymied by local officials who are used to being judged on economic growth at any cost.

In a third pollution case, investigators found the local environmental protection bureau had violated laws in approving the construction of a lead smelter in the northwestern province of Gansu that left some 2,000 people with higher-than-normal levels of lead in their blood.

"Those who should be charged will definitely be taken to the judicial system," state radio quoted an official from the Ministry of Supervision as saying.

Soil was found contaminated by lead for 400 metres (1,300 feet) around the site, and 260 residents had serious lead poisoning, almost all of them children.