BEIJING - Mongolia's prime minister pledged to strengthen trade and political ties with China when he met with Chinese Premier Wen Jiabao at the start of a six-day visit.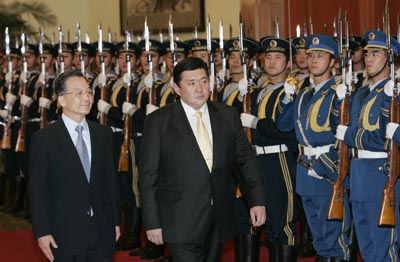 China's Premier Wen Jiabao (L) and Mongolia's Prime Minister Miyeegombo Enkhbold review an honour guard during a welcome ceremony at the Great Hall of the People in Beijing November 22, 2006. [Reuters]


Related readings:


Wen meets with Bulgarian counterpart


Shanghai prepares for 2010 World Expo


Wen and Carlos


Wen: Protectionism hurts


Sino-Russian energy ties to surge


President Hu and Premier Wen meet Russian PM


Premier Wen meets with Russian PM


Chinese Premier meets PMs of Mauritius, Morocco, Angola


Premier Wen meets PMs of Mauritius, Morocco, Angola


Chinese, African trade expected to soar

Wen welcomed Prime Minister Mieagombo Enkhbold at the Great Hall of the People, the seat of the legislature, and said his trip would help advance relations between the two neighboring countries.

"I am willing to develop relations between both countries by deep and friendly exchanges of opinions with you," Wen said.

Enkhbold was to meet Wu Bangguo, the country's top legislator, and Jia Qinglin, member of the Communist Party's Politburo Standing Committee on Thursday. He will also visit the western region of Xinjiang and Shaanxi province in the north.

"We will push for the important future development of partnership and discussions. We hope for the stable long-term development of friendly relations and cooperation," Enkhbold told Wen.

The Mongolian and Chinese delegations signed several memoranda of understanding, including a gift of 2,000 tons of wheat from China to Mongolia, a special export loan of US$300 million, cooperation between the foreign ministries of both countries in 2007 and cooperation on exploration of oil and coal. No additional details were provided on the agreements.

According to the Xinhua News Agency, trade between China and Mongolia hit US$1.13 billion (euro0.88 billion) in the first nine months of 2006, up by 88.8 percent over the same period last year. Its 2.5 million people live on a vast, grassy steppe between Russia and China. Many are nomadic herders of cattle and sheep.

It is Enkhbold's first visit to China since taking office in January.

Last month, he survived a no-confidence vote in parliament amid complaints of corruption and misconduct by officials of his government.

Critics have accused Enkhbold of misconduct in land sales during his former term as mayor of Ulan Bator, Mongolia's capital and biggest city. Others accused his ministers of incompetence and said they had failed to do enough to ease poverty in the country, which suffered a sharp economic decline since 1990.