BEIJING -- Chinese and US negotiators have agreed to work for an early resumption of the six-party talks and to make concerted efforts for progress, Foreign Ministry spokeswoman Jiang Yu said here Tuesday.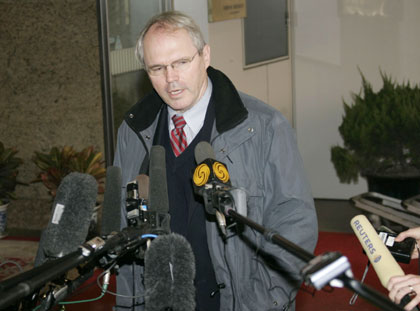 US Assistant Secretary of State Christopher Hill speaks as he leaves from Beijing airport November 21, 2006. [Reuters]


Jiang said Chinese Vice Foreign Minister Wu Dawei met on Monday evening with US Assistant Secretary of State Christopher Hill, making an in-depth exchange of views on issues related to the six-party talks.

The two sides agreed to make joint efforts for the resumption and further progress of the talks, Jiang said.

Jiang said the exact date of resumption had yet to be decided.

"We are still negotiating the date with parties concerned," said the spokeswoman.

A spokesperson of the US embassy in Beijing said Hill believed the talks would probably be resumed in mid-December.

"I believe we will have six-party talks, probably in the middle of December, but what is important for us is that they be well planned," Hill was quoted as saying.

Analysts interpreted Hill's whirlwind trip to Beijing as an "important preparatory" visit for the early resumption of six-party talks, which focused more on the details of the talks, including a specified timetable.

The current progress was closely related to a flurry of diplomatic activities, said Ruan Zongze, a senior research fellow at the China Institute of International Studies.

It also showed that the international community had sensed the urgency of addressing the Korean Peninsular nuclear issue.

"On the one hand, parties concerned would like to adopt a more responsible and substantial attitude; on the other hand, they realize that the issue should not dragged out, or it will be trickier to resolve," Ruan said.

Though uncertainties still exist before the resumption of the six-party talks, the talks were an "irreplaceable and practical" choice to solve the issue, said Shi Yuanhua, a researcher on Korean studies at Fudan University in Shanghai.

Jiang also denied earlier reports suggesting that Beijing had unfrozen some of the Democratic People's Republic of Korea (DPRK) accounts in a Macao bank. She said the financial sanctions had been carried out by Macao, not Beijing.

On the possibility of DPRK chief negotiator Kim Kye Gwan visiting China and his Chinese counterpart Wu Dawei visiting Pyongyang, Jiang said, "That is only speculation."

The six-party talks, involving China, the DPRK, the United States, the Republic of Korea, Russia and Japan, are aimed at finding a solution to the Korean peninsula nuclear issue.

However, the talks have been stalled since last November as the DPRK refused to return to the talks because of US sanctions against it.

The DPRK said on Nov. 1 that it had decided to return to the six-party talks, but did not offer a specific date.