Huang Jianxiang, the CCTV sports commentator who resigned on Thursday in the face of mounting pressure over comments he made while covering this summer's World Cup finals, is planning to counter rumours surrounding his departure by answering a series of questions on his blog.
He has invited the public to vote on the eight questions by logging on to his official blog at blog.tom.com.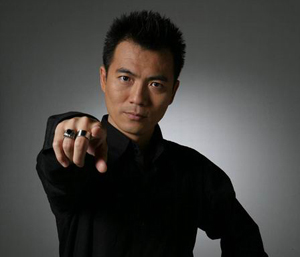 China's well-know sportscaster Huang Jianxiang.[sina.com/file]


Though the 38-year-old is widely regarded as the best soccer presenter in China, he caused an uproar this summer after delivering a pro-Italy outburst during this summer's World Cup finals.

Huang made the offending comments during a match between Italy and Australia, when he said, "long live Italy" and "I don't like Australia's soccer team."

The commentator lost his cool as the matched ended, shouting "Goal! Game over! Italy wins! Beat the Australians!"

He followed this with "Italy the great! Forza Italia!"

In response to these comments, Huang was dropped from the CCTV top-10 anchors list.

Though Huang later apologized for his comments, the backlash was unavoidable. The media followed his every move, and netizens stitched together short audio and video pieces making light of his outburst.

"I am under great pressure because some malicious members of the media have made up fake, shocking 'exclusive news' about me," Huang wrote in his resignation letter.

Life 'ruined'

He said his life has been ruined by the egao - a subculture that uses the Internet to spread subversive jokes.

Huang also announced that he had a problem with his cervical vertebra and needed a break from his punishing schedule, which included coverage of over 200 live matches every year.

CCTV sports director Jiang Heping told Beijing Youth Daily that Huang's resignation was a personal decision and had nothing to do with his enthusiastic commentating during the World Cup.

Jiang said the decision would benefit neither CCTV nor Huang and urged the media to soften their criticism of the commentator.

However, speculation suggesting other possible reasons for Huang's sudden resignation has been rife since he announced his decision.

Some commentators have hinted that another CCTV sports commentator had written a letter accusing Huang of unethical behaviour, such as socializing while he was supposed to be on sick leave.

Still, many netizens have come out in support of Huang, posting messages in favour of his unique style.

"Huang's passionate comments have inspired many Chinese soccer fans and even those who did not watch soccer before. We support you!" read one post on QQ.com forum.

"Without Huang Jianxiang, CCTV-5 (sports channel) will lose a lot of audience members like me," wrote another person posting on QQ.com forum.

Nearly three-quarters of the people responding to an online survey at Sports.QQ.com said they supported Huang's decision to resign from China's biggest television station, saying that CCTV was no longer suitable for him.

Only 12 per cent of those surveyed said they had stopped listening to Huang after his emotional outburst.

Huang also made headlines recently after being linked to super girl-winner Zhang Liangying following his divorce.