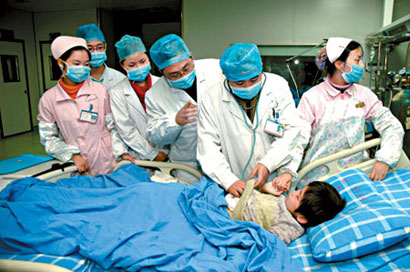 Doctors at Jiujiang No 1 People's Hospital check a student who was injured in a stampede at Tutang Middle School on Saturday. [Xinhua]



Six first-grade students were trampled to death and 39 injured during a stampede at a middle school in East China's Jiangxi Province on Saturday evening, local officials confirmed yesterday.

The accident occurred at 8:30 pm after an evening class when students of Tutang Middle School in Duchang swarmed into the staircase of a three-storey building, jostling and pushing each other, Xinhua News Agency reported.

Jiang Minxu, a grade-two student, said that more than 100 students fell on top of each other.

Six students, five boys and one girl aged 12 and 13, died on their way to hospital.

The injured students of whom 11 are said to be in a serious condition are receiving treatment at the Duchang People's Hospital, Duchang Traditional Chinese Medicine Hospital, and Jiujiang No 1 People's Hospital.

A student who survived the accident said he saw someone squatting to tie shoelaces on the staircase between the first and second floors when hundreds of students rushed downstairs.

Evening classes were held for first-grade students from six classes, each with more than 80 children. The school has 1,600 students.

When the stampede took place, the teachers were in the office marking students' mid-term exam papers. According to school rules, teachers should be present during evening classes.

A female patient at the Traditional Chinese Medicine Hospital surnamed Deng described to China Daily what she saw that night: "Parents or relatives of the students rushed into my ward, crying and in shock. It was scary."

Top local officials, including the mayor of Jiujiang City and the head of the county government, arrived in Tutang Town to supervise rescue efforts and deal with the aftermath.

"The most important task is to treat the injured and pacify their parents," said an official who did not want to be named, adding that those responsible for the accident would be dealt with later.

Families of the dead students have been given 20,000 yuan (US$2,500) each in compensation and local authorities are trying to establish the exact cause of the accident, according to a Xinhua report.

The school principal has been detained by the local authorities, it said.

The school has been closed and classes suspended, the official said.