HANOI, Vietnam - China will step up reforms of its economy to counter politically contentious trade imbalances, President Hu Jintao told world business leaders attending an economic conference in Hanoi on Friday.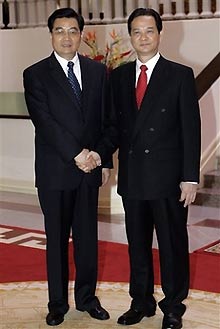 Chinese President Hu Jintao, left, shakes hands with Vietnamese Prime Minister Nguyen Tan Dung prior to their talks at the government office in Hanoi, Friday, Nov. 17, 2006. [AP]
Hu, in Hanoi to attend the annual summit of the Asia-Pacific Economic Cooperation forum, was to meet with President Bush amid mounting criticism of China's surging trade surplus with the U.S., which is projected to jump 12 percent to $228 billion this year.
Pressure on Bush's administration over China's surplus is expected to increase following the opposition Democratic Party's capture of Congress in elections last week.
Hu pledged to "accelerate the transformation of the pattern of trade growth and improve trade structure to ensure balanced growth of imports and exports."
He also reiterated China's promises to improve protection of intellectual property, such as copyrights and trademarks, and to further open the economy to foreign investment and trade. But he gave no details on how China would begin to redress its mounting surpluses with many countries.
China's Commerce Ministry forecasts that the country's overall trade surplus will soar to a record $150 billion this year, nearly 50 percent above the 2005 level.
Exports are expected to total $960 billion this year, with imports reaching $810 billion.
China has promised to continue loosening its currency controls, which critics say keep the value of the Chinese yuan artificially low, giving its exporters an unfair price advantage in overseas markets.
But Washington wants faster action, U.S. Deputy Treasury Secretary Robert Kimmitt said Friday.
"We believe that the Chinese need to accelerate the movement of their exchange rate to reflect underlying market conditions," Kimmitt told reporters ahead of a meeting of finance ministers and central bankers from the Group of 20 major industrialized nations in Melbourne, Australia.
Kimmitt said he expects to discuss the currency issue with Chinese representatives at the two-day meeting.