HANOI - Asia-Pacific leaders will pledge to break a deadlock in global trade talks as they open a two-day summit in Hanoi on Saturday that will also deal with North Korea and economic security threats.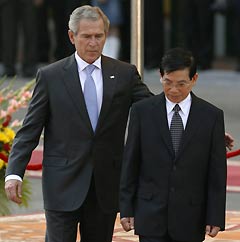 U.S. President George W. Bush (L) and Vietnam's President Nguyen Minh Triet walk together at the presidential palace in Hanoi November 17, 2006. [Reuters]
"We are ready to break the current deadlock: each of us is committed to move beyond our current positions in key areas of the (Doha) Round," a draft of the statement from the Asia Pacific Economic Cooperation ( APEC) leaders says.
That means opening up agriculture markets, "making deeper reductions in trade-distorting farm support by major players," and cutting industrial tariffs, "while dealing seriously with members' concerns and sensitivities."
The leaders will pledge to "remain personally involved" to ensure negotiations resume and provide the "flexibility and ambition to secure a breakthrough."
The Doha round of World Trade Organisation (WTO) talks collapsed in July, mainly due to an impasse over farm subsidies among six key players -- APEC members the United States, Australia and Japan, and the European Union, India and Brazil.
U.S. President George W. Bush will also try to drum up support for a free trade zone encompassing the 21 APEC members, despite a rebuff of Washington's bid to make the proposal a key part of this weekend's summit in Hanoi.
Supporters of the vast Pacific Rim free trade area see it as insurance against any inability to resuscitate the Doha talks.
ECONOMIC SECURITY
The week-long APEC extravaganza of plenary sessions, back-room meetings and banquets attended by 10,000 officials, businessmen and journalists culminates in the weekend summit at Hanoi's new, German-designed $270 million National Convention Centre.
Indonesian President Susilo Bambang Yudhoyono told an audience of business leaders on Friday that economic security threats "are now very much a central part of the APEC Leaders' agenda."
These threats include terrorism, the proliferation of weapons of mass destruction, pandemic influenza, corruption, and natural disasters such as tsunamis, earthquakes, forest fires, volcanic eruptions, floods and typhoons.
"All these economic security threats require our region to work closer, and require governments and business to come together," he said. "It also requires us to start thinking and acting as a community -- a community with a shared future."
A major terrorist attack or pandemic could deal a serious blow to APEC, which accounts for nearly half of global trade and nearly 60 percent of the world's GDP.