Furongjiejie, so long, Tianxianmeimei, no more. Who's the hottest icon on the net right now? Here comes a fair lady who takes care of children.
Thanks again to some goodwill "paparazzi," several undetected snapshots have soon sent the pretty-looking and amiable kindergarener into an instant cyber sensation.
The place is a Nanjing zoo, East China's Jiangsu Province. A group of pre-school children toured the zoo, led by their smiling teacher.
She wears white T-shirt, a pair of jeans, and, the most attractive, a beautiful smile as she guides the children around the park.
Becoming a sought-after hot figure in many Chinese BBS, she herself may be still kept in dark about her Internet fame gained unwittingly overnight.
"Who can help introduce the lovely girl to me?" said an online writer on Moobol.com, which first put up the photoes, wishing friendship, or perhaps love, with her.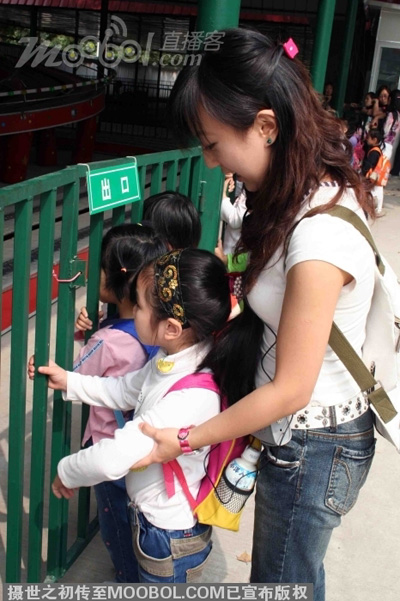 'Sister kindergarten' guides children to take part in a game in a Nanjing park.