After the barnstorming success of Super Girls, the Chinese version of the poplular U.S. TV show "American Idol", another U.S. reality show -- "I Want a Famous Face" -- has arrived in living rooms across the land and is generating even more controversy.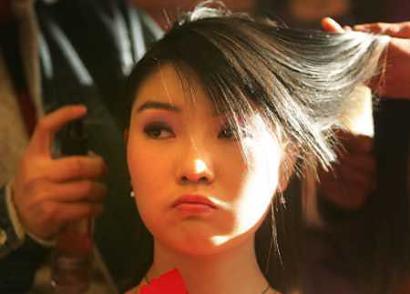 A competitor in China's first artificial beauty pageant receives final touches before the opening presentation in Beijing December 12, 2004. The finals for Miss Artificial Beauty are due to be held Saturday December 18, 2004, when contestants ranging from 17 to 62 years-old will parade their surgical nips and tucks-- enhancements once banned in beauty contests. Cosmetic surgery has become popular in China. [Reuters]



Screened by MTV China at 10 p.m. every evening from September 4 to September 25, the show describes cosmetic surgery that may involve anything from cutting human skin to grinding bones.

Candidates for the surgery are on a quest for beautiful celebrity-like faces but achieving that goal can be painful and the reality show is proving highly controversial.

"Cosmetic surgery, like any kind of surgery, includes bloody scenes that can frighten medical students and even surgeons, let alone ordinary viewers," said Nin Fumin, a cosmetic surgeon in a Guangzhou-based hospital.

Nin's remarks were echoed by Cai Fangming, head of the Shuguang Hospital in Guangzhou, who recommended stricter viewer guidelines.

Sina.com, one of the major news websites in China, reported cameramen fainting while shooting scenes in the operating theater.

MTV China has already blurred images on the screen and issued warnings about bloody scenes during the show. It has also avoided peak viewing time for children.

Other cosmetic surgeons fear that, even though it is popular with viewers, the show will drive away potential customers.

"I know a girl who saw surgery being done on someone else and then refused to undergo an operation for double-fold eyelid she had asked for," said Liang Wenbo, director of Yinhang Hospital in Guangzhou.

"In fact, double-fold eyelid surgery is the simplest operation in cosmetic surgery. I don't know if anyone will want to undergo cosmetic surgery after seeing what it is like on the screen," Liang said.

"Creating beauty is not necessarily a beautiful process," he added.

Despite the misgivings of surgeons, ordinary viewers in China have welcomed the new show.

A teacher called Hu from Guangdong Province said the reality show portrayed the reality of cosmetic surgery and what it can do for patients.

"The show gives people a chance to think twice before leaping into the surgery room," Hu said.

"The shows are very different from TV advertisements, which only show the positives. This show tells us lots of patients suffer pain and some of them have encountered disasters like losing their girlfriend or their job after surgery," Hu said.

China issued a circular effective November 1 banning Chinese newspapers and magazines from publishing misleading advertisements about cosmetic surgery operations such as breast enlargement.

Other reality shows about cosmetic surgery, such as the Chinese version of U.S. "The Swan" screened by China Entertainment Television Broadcast Ltd., have also been popular and controversial.