Every autumn, northern cities in China have to heat themselves up in succession to fight against plummeting temperatures.
Wednesday is Beijing's turn.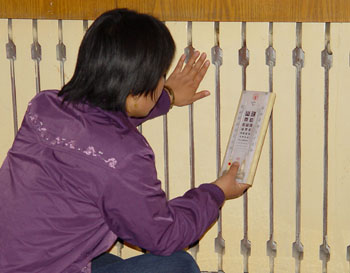 A woman checks the heater's temperature yesterday at her apartment in Haidian District in Beijing. [China Daily]


Like other residents in the capital, the Ning family are looking forward to the warmth. "Back in 2003, we were not so happy," said Ning Xingsheng, a computer technician who has lived in Haidian District for more than 20 years.

A community coal-fuelled boiler supplied the heat in the Nings' residential building three years ago and caused some problems. "It worked best in the morning but cooled down at night," Ning recalled. "The worst thing was its heavy pollution."

And it's the burning of coal that is one of the biggest pollution problems not only in Beijing but nationwide.

When autumn arrived, coal was piled in front of the boiler next to the Nings' apartment building.

"The strong winter wind always carried the soot everywhere and made our clothes and hair dirty," Ning said. "Our windows were often coated with the black dust, too."

The antiquated boiler was finally removed in 2003, and the Nings' building was connected to a central heating system fuelled by natural gas. "Now the indoor temperature is much higher than before, and it stays steady all day," Ning said. "More important, it's much cleaner."

The Nings' story reflects the change in Beijing's heating system since the late 1990s.

Even better, next year will witness a landmark achievement, as every coal boiler and furnace in the city proper of Beijing will be powered by gas or electrical systems by the end of 2007.


To date, more than 16,000 small city boilers in Beijing, each with a capacity of less than 20 tons, have been transformed into gas or electricity-powered units.

The same update has been made to all the 44,000 smaller coal-fuelled furnaces, too.

And next year, the last group of 1,300 boilers and furnaces will switch their coal power sources to natural gas or electricity, said Cheng Ying, a senior official with the Beijing Environmental Protection Bureau.

With these renovations completed, the city will reduce an additional annual need for coal by 6 million tons about 12 per cent of Beijing's total annual need in 2010, based on the municipal government's projection.

The coal reduction will cut 20,000 tons of smog and dirt and 40,000 tons of sulphur dioxide (SO2) from Beijing's air every year, Cheng said.



| | | |
| --- | --- | --- |
| 1 | 2 | |