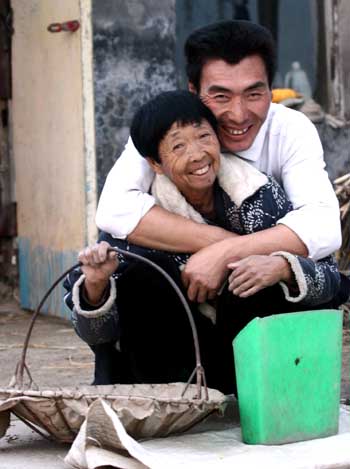 Li Yucheng and his wife Ma Yuqin smile in their home in Linghai, Liaoning November 11. [Newsphoto]
Thirty-eight-year-old Li Yucheng married 68-year-old Ma Yuqin in the winter of 1997 with most of their relatives and friends fiercely opposed but are now living happily ever after, according to newsphoto.com on November 11.
The couple met in the village of Linghai, Liaoning Province in 1995 when Li joined a Yangko dance team directed by Ma. They soon fell in love and got married, with little support from friends or family.
"You can't imagine the hardships we've been through in the past nine years," Ma told newsphoto.com. "Relatives on both sides did their utmost to fight against our marriage. My son saw me like an enemy and wouldn't allow me to go back home."
"I can understand why they did that. After all I'm 30 years older than Li," she added.
So the newlywed couple built a shabby hogan in the paddy field one kilometer away from the village and lived there to avoid criticism from the village folk.
Nine years have past since their wedding, and most of their friends and relatives have changed their attitudes and accepted the couple.
They finally tolerated the peculiar marriage and saw clearly that Li was an honest and tolerant man, and Ma was a persevering woman.