The Asia Pacific Economic cooperation or APEC annual meeting will be held in Hanoi in the middle of this month. China is Vietnam's biggest trade partner. Just this year, the trade volume between two countries hit eight billion US dollars in the first eight months.
On the streets of Hanoi, APEC signs are everywhere. The annual APEC meeting will begin November 12 through November 19 in Vietnam. People there are calling November the "month of APEC". For now, the meeting is the most important economic event in the country.
Emulating China, Vietnam started its economic open policy in 1986. Since then, the country has attracted foreign investment from over 70 countries and regions.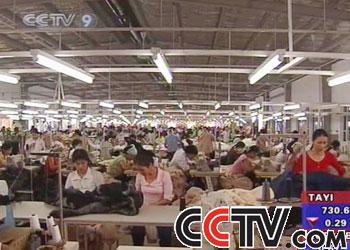 This is a clothing firm operated by a Chinese company. It is also the biggest factory in north Vietnam. Their products have been sold to Europe and America.
Xia Enbing, Executive of Full Wealth Intl. Garments said: " The factory hires 1500 workers. It helps solve the employment problem and also boosts the local economy. "
So far, more than 400 Chinese firms have invested in Vietnam in various fields including tourism, agriculture and high tech. To date, the total investment has exceeded 800 million US dollars.
Official of Vietnam Industrial and Commercial Asso. said: " We think Chinese businesses play an important role in the Vietnamese economy. They contribute to our export sector and employ our local labour force. In total, 12,000 Vietnamese have been hired so far by Chinese firms operating in Vietnam. "
Besides direct investment, China is also Vietnam's biggest trade partner. Based on the free trade agreement, most Chinese products enter the country with zero tariff.
On November 7, Vietnam will enter the World Trade Organization. Hanoi's formal entry into the world body is expected to further strengthen Vietnam's economy, and trade ties with other members, including China.