China agreed on Friday to share long-sought bird flu virus samples with international health authorities, after rejecting the existence and spread of a new strain of H5N1 bird flu called "Fujian-like virus".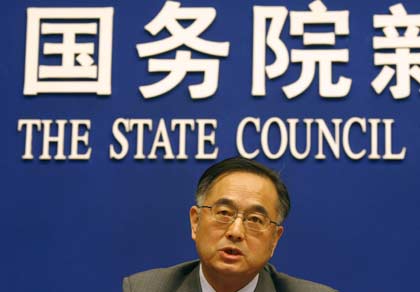 Jia Youling, China's chief veterinary officer, holds a news conference at the State Council Information Office in Beijing November 10, 2006. [Reuters]


The World Health Organisation (WHO) said 20 virus samples were being sent to the US Center for Disease Control, a WHO collaborating centre, raising hopes of a better understanding of how the H5N1 bird flu virus is changing.

"We are very encouraged by that. They are viruses from 2004 and 2005, and we will make follow-ups for the 2006 samples," Henk Bekedam, the WHO's China representative, told reporters.

The decision comes after China rejected a report published by a paper last week said several scientists had detected a new strain of H5N1 in the southern Chinese province of Fujian last year.

"The data used in the article are erroneous and the research methodology is unscientific. The conclusions of the paper are untenable and contravene the facts," Jia Youling, China's chief veterinary officer, told a news conference.

The paper published in the US Proceedings of the National Academy of Sciences that identified the "Fujian strain" said it may have started outbreaks in Southeast Asia.

"In fact, there is no such thing as a new 'Fujian-like' virus variant at all," Jia said.

"It is utterly groundless to assert that the outbreak of bird flu in Southeast Asian countries was caused by avian influenza in China and there would be a new outbreak wave in the world."

Rob Webster, of St. Jude Children's Research Hospital in Memphis, and Guan Yi, from Hong Kong University, said in the paper that the new strain had already spread to Malaysia, Laos and Thailand, and may cause a major outbreak in Asia and Europe.

Jia questioned the reliability of the paper's data. Guan claimed that he collected over 50,000 samples from Fujian, Guangdong and four other provinces. But Jia said none of the veterinary authorities in these provinces received applications from him as required by law.

Guan also failed to indicate the location and owners of the fowls he used, against internationally accepted standards, Jia said.

If Guan had bought 50,000 poultry in markets for his research, then he would not have used only 76 blood serum samples to support his study, as blood serum tests are quite simple, Jia added.

The only option left, he said, is that Guan collected his samples from manure gathered in fowl markets.

If this was the case, then his results could not be exact, because manure can be easily mixed with other materials and polluted, Jia said.


The WHO said it is still studying the paper.

Mutations

Chinese scientists also denied the paper's claims that its vaccines were ineffective against new strains, saying they were continually updating vaccines as the virus changed.

"We have developed new vaccines to control those variants," said Chen Hualan, director of China's National Avian Influenza Reference Laboratory.

Jia added that China's national bird flu laboratory had been instructed by the Agriculture Ministry to follow any signs of mutation, amid fears the virus could change into a form that can pass easily between people, leading to a potential pandemic.

He also criticized the methodology and ethics of Guan Yi, one of the paper's authors.

Jia noted the Fujian-like strain, which Guan said had emerged in March 2005, was actually the same as bird flu viruses found in Hunan in February 2004 in terms of genetic sequencing.

"Guan said he wanted to alert the world with the paper, but why didn't he report the markets with virus-carrying birds to the government if he truly believed in his findings?" Jia asked.

He said there were 10 confirmed poultry outbreaks in seven provinces of China this year, adding 95 percent of domestic birds had been vaccinated.

The WHO has said the Fujian strain has not shown a heightened danger to humans.

H5N1 has caused 21 human infections in China since late 2003, including 14 deaths.