China plans to significantly increase the import of electricity from Russia, a move that both countries consider important to raise bilateral co-operation in the energy sector.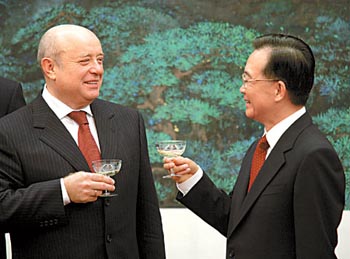 Premier Wen Jiabao and Russian Prime Minister Mikhail Fradkov raise a toast after a signing ceremony Thursday. [China Daily]


The agreement between State Grid Corporation of China and Russia's electricity monopoly Unified Energy Systems was one of the 13 key deals the two countries inked Thursday in Beijing in the presence of Premier Wen Jiabao and Russian Prime Minister Mikhail Fradkov.

Under the new agreement, Russian media reported, the country would supply up to 60 billion kWh of electricity to China per year, starting with 4.3 billion kWh. China's current consumption is about 2.2 trillion kWh.

The other documents include protection and encouragement of investment, exports of Russian machinery and technical products and a framework agreement on strategic co-operation between oil companies.

Before the agreement-signing ceremony, Fradkov, on a two-day visit to China, had two hours of talks with Wen at the 11th regular meeting of the heads of governments.

Both highlighted energy and the peaceful use of nuclear power as the key areas to boost partnership.

The Tianwan nuclear power plant, a major Sino-Russian project now under construction in Lianyungang, a port city in East China's Jiangsu Province, is an example of collaboration in the use of nuclear power for peaceful purposes.

Jiangsu media reported that the first unit of the plant started generating electricity last month; while Russian media said it would reach full capacity next month.

Wen said the strengthening of the Sino-Russian strategic partnership is essential as the development of the two countries as well as global peace and development require it.

Wen also noted that the two countries have co-ordinated well in resolving some sensitive and complicated international issues.

Fradkov echoed Wen's remarks, saying Russia is willing to take more measures to push bilateral ties to a new high.

Also yesterday, the two countries sealed eight other agreements covering trade and technical co-operation at the beginning of Sino-Russian Investment Promotion Week. The contracted investment volume from the Chinese side is US$1 billion.

The two leaders also attended the closing ceremony of the "Year of Russia" in China at the Great Hall of the People last night.

The Tchaikovsky State Academic Big Symphony Orchestra played classical Russian music as well as traditional Chinese pieces under the batons of Vladimir Fedoseev and Chinese conductor Shao En.