Senior foreign policy officials from China and the United States yesterday had "fruitful" exchanges during the third round of bilateral strategic talks.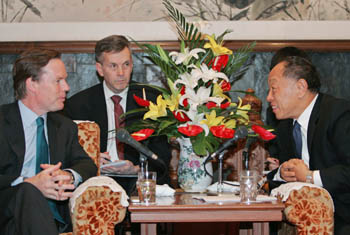 US Undersecretary of State Nicholas Burns (L) speaks to China' Foreign Minister Li Zhaoxing (R) during their meeting at the Diaoyutai government guest house in Beijing November 8, 2006. A meeting between US President George W. Bush and his Chinese counterpart, Hu Jintao, next week will help lay the groundwork for six-party talks on dismantling North Korea's nuclear weapons, Burns said on Wednesday. [China Daily]

The nuclear issue on the Korean Peninsula was discussed by Vice-Foreign Minister Yang Jiechi and visiting US Under Secretary of State Nicholas Burns, who co-chaired the one-day closed-door meeting, according to a statement released by the Foreign Ministry.

"We had a very very productive session this morning," Burns told Foreign Minister Li Zhaoxing, who he met after the dialogue.

"The United States and China should be partners and try to secure stability and peace in the world."

At a meeting with Vice-Foreign Minister Dai Bingguo a member of the Chinese delegation sent to Pyongyang last month after its nuclear test Burns said "we will see what we can do with" the Korean nuclear issue.

The Foreign Ministry statement added: "China and the United States agreed to step up co-operation on a wide range of bilateral issues, and work for closer communication and consultation on major international and regional issues."

Burns arrived in Beijing on Tuesday and it was the first time he has led the US side in the strategic dialogue with China. Two rounds of the dialogue were held in August and December last year.

Burns, along with Robert Joseph, undersecretary of state for international security, is scheduled to call on top Chinese leaders in Beijing, a prelude to President Hu Jintao's planned meeting with US President George W. Bush on the sidelines of the Asia-Pacific Economic Co-operation (APEC) Forum in Hanoi next week.

The semi-annual strategic dialogue, agreed to by Hu and Bush at the 2004 APEC Meeting, was inaugurated in 2005 by Dai and former US Deputy Secretary Robert Zoellick in Beijing.

Ruan Zongze, a senior research fellow at the China Institute of International Studies, said the two countries must continue consultations in key areas such as trade, terrorism and health at various levels.

A US scholar noted that the success of such exchanges depends upon understanding nuances in each other's positions.

There is no way the Americans can tell the Chinese what they should do, a senior research fellow from the Hoover Institution at Stanford University told China Daily in Beijing on Monday. "The Chinese are going to work things out their own way," said David Brady, deputy director of the institution.

Brady listed the challenges that China faces, from unemployment to poverty alleviation. "You are going to bring 1 per cent of the population a year that is 13 million people into the cities, and that's (the population of) New York City," he said.