China and Egypt agreed to strengthen co-operation in the peaceful use of nuclear energy, according to a joint communiqu released Monday in Beijing.
The document does not give any details, but earlier reports said that Cairo in late September announced it was relaunching its civil nuclear programme after a suspension of 20 years following the Chernobyl disaster in 1986.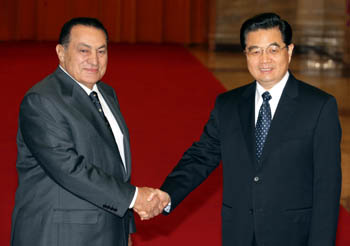 President Hu Jintao shakes hands with visiting Eyptian President Hosni Mubarak to the Great Hall of the People yesterday. The two leaders agreed to consolidate political ties, expand economic relations and increase cultural exchanges. [newsphoto]

Egyptian Foreign Minister Ahmed Abul Gheit reportedly said that Egypt talked about the possible help China would give to Egypt over its civilian nuclear programme.

Increased co-operation in agriculture, science and technology, finance, tourism, environment, medical treatment, energy, aerospace technology, information and telecommunications were also highlighted in the document.

President Hu Jintao held a welcoming ceremony for visiting Eyptian President Hosni Mubarak in the Great Hall of the People and then the two held a closed-door meeting.

Mubarak, who has visited China nine times, is described by Hu as a "close friend of China," and the two leaders agreed to consolidate political ties, expand economic and trade relations and increase exchanges in the cultural sector.

Egypt was the first country in Africa and the Arab world to recognize China and the two countries this year celebrate their 50th anniversary of establishing diplomatic relations. Mubarak visited China to take part in the Beijing Summit of the Forum on China-Africa Co-operation. The next ministerial-level forum will be held in Egypt.

The two countries signed four agreements yesterday, covering economic, technological, public health and investment fields.

President Hu Jintao and Premier Wen Jiabao visited Egypt in January 2004 and in June 2006 respectively. Bilateral trade hit US$2.145 billion last year, up 36.1 per cent over the previous year.

In the joint communiqu, Egypt reiterates its one-China policy and opposes "Taiwan independence" in any form.

On the issues in the Middle East, the two countries agreed that they should strive for peace on the basis of international law, relevant United Nations resolutions, the "land-for-peace" principle and the Arab peace initiative. The two sides condemned all forms of terrorism and are dedicated to enhancing existing co-operation in anti-terrorism.

They expressed grave concerns over the nuclear test conducted by Democratic People's Republic of Korea and the escalation of the situation in the Korean Peninsular. They hoped all relevant parties could resolve the problem through "rational and peaceful means," and avoid use of force in order to ensure a nuclear-free peninsular.

China and Egypt support the reform of the United Nations so as to enable it to better deal with new challenges in the world, including the reform measures of expanding UN Security Council by absorbing more developing countries, especially African countries.

Hu yesterday also held separate meetings with Burundian President Pierre Nkurunziza, Somali President Abdullahi Yusuf and Zambian President Levy Patrick Mwanawasa.

China will support the Somali interim government's efforts to seek peace and reconstruction, urging the UN Security Council to grant it more support and assistance, said Hu in the meeting with Yusuf.

China and Burundi have deep traditional friendship, and should enhance co-operation in investment, infrastructure, telecommunications and agriculture, said Hu in the meeting with Nkurunziza.

He told Zambian President Mwanawasa that China will further strengthen ties with Zambia and actively implement the co-operation projects between the two countries.