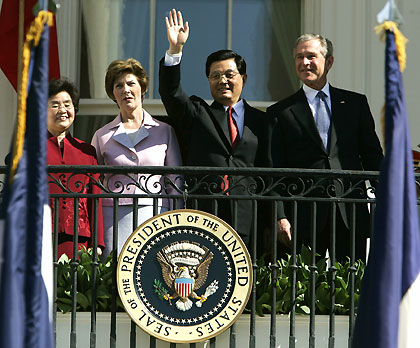 US President George W. Bush (R) and first lady Laura Bush (2nd L) gather on the South Portico of the White House with China's President Hu Jintao (2nd R) and his wife Liu Yongqing at a welcoming ceremony in Washington April 20, 2006. [Reuters]



Chinese President Hu Jintao will kick off his maiden trip to India later this month amid reports that Beijing is considering talks with New Delhi on a free trade area (FTA).

Foreign Ministry spokeswoman Jiang Yu told a regular briefing yesterday that Hu will make a state visit to India from November 20 to 23 following official visits to Viet Nam and Laos. He will then visit Pakistan for another four days.

Hu will also attend the Asia-Pacific Economic Co-operation Summit in Hanoi, the capital of Viet Nam, next week.

The FTA issue is widely expected to be discussed during Hu's visit to India; and Assistant Foreign Minister Cui Tiankai yesterday hoped for successful negotiations.

China is currently holding FTA talks with Singapore, Australia, New Zealand and Pakistan as well as the Association of Southeast Asian Nations. Japanese Prime Minister Shinzo Abe has recently expressed interest in a similar arrangement.

"Trade and economic co-operation between China and India serve the interests of both countries," Cui said, noting that bilateral trade volume is expected to exceed US$20 billion this year.

He said China is India's second-largest trading partner and the two sides co-operate closely in energy, agriculture, technology and education.

Earlier reports quoted Fu Ziying, assistant minister of commerce, as saying that China is considering FTA talks with India; and observers said fruition would only be a matter of time.

Liu Jian, a senior researcher at the Chinese Academy of Social Sciences, said the resumption of cross-border trade at the Himalayan Nathu La Pass in July is a good prelude to the FTA talks.

He said the "conditions for the establishment of a free trade area have been improving. The free trade area will not only conform to the trend of economic globalization, but also strengthen bilateral ties."

He noted that trade between the two Asian giants, both among the world's fastest-growing economies, soared in the past decade, from US$1.16 billion to US$18.7 billion last year, with year-on-year growth of 32 per cent.

During his trip to the world's second-most populous country last April, Premier Wen Jiabao and his Indian counterpart Manmohan Singh set a bilateral trade target of US$50 billion by 2010.

They also agreed to set up a joint task force to study the feasibility of a free trade area.

According to Indian media, the task force held its first round of talks last September and the next meeting is scheduled for December.

Liu said Hu's visit will be the climax of the Year of China-India Friendship and help enhance trust and understanding.

He said both the government and the people are keen to push forward Sino-Indian co-operation as demonstrated by the newly-minted word "Chindia," and made well-known in the title of a book by Jairam Ramesh, India's junior minister for commerce.

Top-level exchanges

In Hanoi, Hu is scheduled to meet US President George W. Bush and Japanese Prime Minister Shinzo Abe on the sidelines of the APEC Summit.

Vice-Foreign Minister Yang Jiechi and visiting US Under-Secretary of State Nicholas Burns, who is in charge of political affairs, will co-chair the third China-US Strategic Dialogue in Beijing today.

The meeting between Hu and Abe will be their second since the latter took office last month and chose China and the Republic of Korea for his first official visits.