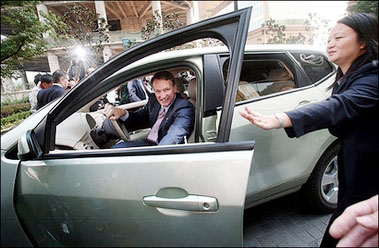 General Motors CEO Rick Wagoner (L) test drives the Chevrolet Sequel, GM's most technologically advanced hydrogen powered fuel cell vehicle, during the car's first drive outside of the US in Shanghai. GM announced a plan to build environmentally-friendly hybrid cars in China by 2008. [AFP]



SHANGHAI - US auto giant General Motors announced a plan to build environmentally-friendly hybrid cars in China by 2008, while it paraded its latest hydrogen-powered vehicle before Chinese officials.

The hybrid would go into mass production at the Shanghai GM plant, a joint venture with Shanghai Automotive Industry Corp, the company said in a press release.

"The GM Hybrid System is flexible and cost effective and is ideal for high volume global applications, which include its introduction in China in 2008," said Martin Murray, head of GM's Asia Pacific hybrid engineering.

The announcement was made as GM was parading a series of energy-saving cars, including the Saturn Vue hybrid and the Chevrolet Sequel hydrogen-powered fuel cell vehicle.

The release did not say which hybrid car would be built in China, but GM's hybrid system was currently under development with DaimlerChrysler and the BMW Group.

GM head Rick Wagoner also on Monday joined Shanghai Mayor Han Zheng in the first-ever drive in Asia of the Sequel, GM's hydrogen-powered vehicle that was rolled out for test drives in the United States last month.

"We believe fuel cell vehicles offer the best long-term solution for meeting the world's growing demand for automobiles in an economically and environmentally sustainable manner," Wagoner said.

"From a China and Asia Pacific perspective, development of world-class fuel cells and the associated infrastructure are key initiatives that need the support of industry, government and the academic community."

Hydrogen-powered cars are seen as vehicles of the future as they do not use gasoline and their only by-product is water vapor.

However the production and storage of hydrogen and the building of a hydrogen infrastructure of refueling stations could take decades and billions of dollars to build.

In the meantime, the hybrid vehicle, a car that uses both a combustion engine and electric motors for propulsion, is seen as an interim solution to the full development of a clean car.

Toyota Motor, the world's second biggest automaker after GM and a pioneer of environmentally friendly cars, began production in China of its popular Prius hybrid at the end of last year.