BEIJING -- The share prices on China's Shanghai and Shenzhen stock exchanges reached a five-year high on Monday, driven by steel and metallurgical stocks.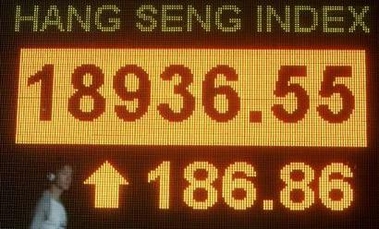 A man looks at an electronic billboard showing the Hang Seng Index in Hong Kong November 6, 2006. Hong Kong blue chips gained 1 percent to their fourth straight record close on Monday, as investors chased property shares and other laggards while China Mobile set fresh six-year peaks. [Reuters]


The benchmark Shanghai Composite Index, which covers both A- and B-shares, rose 19.94 points, or 1.07 percent, to 1,886.31 points.
The Shenzhen Component Index closed at 4,785.37 points, up 94.94 points, or 2.02 percent.
The two bourses recorded a total turnover of 42.8 billion yuan (5.42 billion U.S. dollars).
The rally was led by steel and metal lurgical stocks with the Shanghai-based Bao Steel registering a 10-percent rise in its stock price.
"The market seems to be oblivious to the announcement of the central bank last Friday to raise the deposit reserve ratio for commercial banks by 0.5 percent," said Wan Bing, an analyst with Guangfa Securities.
This is the third time the central bank has raised the deposit reserve ratio since the beginning of the year in its bid to rein in overheating investment.
The bullish market is also in defiance of the intensive flotation of new stocks, including heavyweights like the Industrial and Commercial Bank of China, the nation's biggest lender, said Wan.
"Such a crazy trend can not be sustained," he said, adding that investors must remain prudent.