It may be China's most populous city, but Shanghai people are not ready to get up close and personal quite yet.
Just 20 minutes after the free hugs campaign arrived on downtown East Nanjing Road on Saturday, 11 huggers and several journalists found themselves in a nearby police station.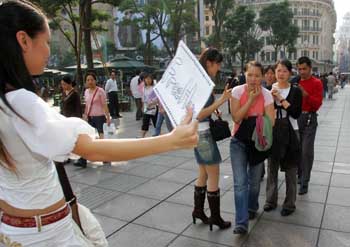 Several passersby stop to take a look at the cardboard bearing "free hugs" on it held by a female free hug campaigner Sunday. [newsphoto]
Their sign boards offering free hugs in both Chinese and English were confiscated.
A middle-aged man who claimed to be the director of the station said public hugging was not right in a crowded place like Nanjing Road. He also said the organizers lacked the necessary certificate to hold an event in a public place. The director refused to give his name.
The huggers were released after about an hour and told not to organize any more public group hugs.
Organizer Baigu told China Daily that more events had been planned for the next two weeks, but would now have to be reconsidered.
"Obviously we can't get a certificate," he said.
"We simply want to bring warmth to people's hearts.
"Aside from this hug, we had been thinking about visiting a rest home or migrant workers."
Baigu, meaning white bone, is a nick-name. The 24-year-old works for a South Korean online game development company.
He decided to organize the hug after seeing a now famous clip on video sharing website YouTube.
The video features a man walking down a street with a board with 'Free Hugs' written on it. At first he walks alone, as passers-by avoid him. But, gradually, people approach and hug him.
The video is said to be recorded in Sydney, Australia, and uploaded on September 22. It has been viewed more than 5 million times, inspiring people around the world.
"The film moved me," Baigu said. "We see strange faces everyday and mostly we see aversion or animosity in their eyes.
"Distance can keep us safe but most people are friendly, seeing this coldness all the time can hurt us.
"Why can't we melt the coldness in people's hearts with our hugs?"
Looking into the matter more, Baigu discovered that around China various groups have started doing just that.
Huggers in Guangzhou, Changsha, Hangzhou and Beijing have done it.
In different cities people respond differently to the opportunity to hug strangers. In Guangzhou and Hangzhou hugging proved particularly popular.
In Beijing the weekend before last people were also eager to embrace their fellow citizens but like in Shanghai their public affection landed them in the local police station.
Baigu said he had discussed the group hug with other netizens on QQ, the Chinese version Internet chatting program ICQ, before decided to hold the event on East Nanjing Road, one of the busiest roads in the city, on November 4. Most of the participants were in their early 20s.