After being kept in custody for several months, Anhui Deputy Governor He Minxu has had his Party membership revoked and been sacked from his post for taking bribes and abusing his powers.
The Central Commission for Discipline Inspection of the Communist Party of China found He guilty of taking bribes worth several million yuan, Anhui Daily reported yesterday.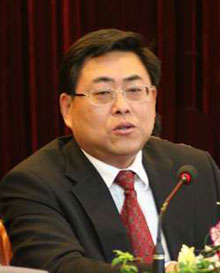 He Minxu. [file]


According to the newspaper, He abused his powers by offering cheap land use, tax cuts and job promotions to people who paid him bribes.

He was also alleged to live a "villainous life," it said.

"He is suspected crimes will be handled by judicial organizations," said the paper.

He is one of the latest corrupt high-ranking officials to be unveiled during this year's anti-corruption campaign.

In late September, Shanghai Communist Party Secretary Chen Liangyu was sacked for channelling pension funds into illegal investments and helping enrich crony companies and his relatives.

The latest scandal involves the alleged illicit investment of at least a third of the city's 10-billion-yuan (US$1.2 billion) social security fund in potentially risky real estate and road projects, reports said.

In a bid to tighten discipline over officials, particularly those in leading positions, the central government issued a rule in August requiring officials to report personal matters, including all property transactions and developments by them or their immediate family members.

The rule bans officials from holding posts that control or supervise an industry or enterprise in which their family members hold shares, reports said.

Earlier this year, the State Council and the Party's discipline body announced that clamping down on commercial bribery would be the focus of anti-corruption efforts for some time to come.

Gong Weibin, a scholar with the National School of Administration, said that the ongoing anti-graft campaign has revealed the challenges the Party is facing as it goes through a crucial period of social development.

"Corruption is not indigenous to China. It also afflicts developed countries, and sometimes leads to the downfall of governments," said Gong in a recent interview with the Xinhua News Agency.

"It's necessary to take an iron fist and crack corruption, otherwise the Party might lose public support or even the support of ordinary Party members."