China and Africa concluded a historic two-day summit Sunday in Beijing and pledged in a joint declaration and a roadmap for future development to build a strategic partnership.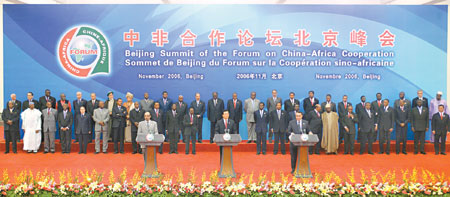 Leaders of China and 48 African countries issue a joint declaration at the end of the two-day Beijing summit. [China Daily]


"We propose to enhance South-South co-operation and North-South dialogue to promote balanced, co-ordinated and sustainable development of the global economy to enable all countries to share its benefits and realize common development and prosperity," said President Hu Jintao when reading out part of the Beijing Declaration.
Special coverage:
Summit new peak in China-Africa relations

Related readings:
Summit adopts declaration, action plan
FM: China not to impose its own mode of development on Africa
China, Africa vow closer cooperation in fighting HIV/ AIDS
FM: China-Africa cooperation based on equality, mutual benefit
President Hu Jintao delivers speech at China-Africa summit [Full Text]
Chinese premier hails China-Africa economic cooperation
Chinese companies ink US$1.9b deals with Africa
FM: China not to impose its own mode of development on Africa
Hu, along with 41 heads of state or government and senior officials of 48 African countries, took part in the biggest diplomatic event in China, with the theme "Friendship, Peace, Co-operation and Development."

They adopted the declaration and the action plan for 2007-09 at the Beijing Summit of the Forum on China-Africa Co-operation (FOCAC).

On Saturday, China pledged to offer US$5 billion in preferential loans and credits, and double aid to Africa by 2009, while announcing a package of assistance, investment, trade and other key projects for public health and education with Africa.

Later the same day, Premier Wen Jiabao unveiled an ambitious target of raising Sino-African trade to US$100 billion by 2010. Bilateral trade reached US$39.7 billion last year, almost four times that of 2000.

Chinese companies, meanwhile, yesterday signed 14 commercial contracts and agreements worth US$1.9 billion with African nations, covering natural resources, infrastructure, finance, technology and communications.

"In the new century, China and the African countries should enhance their traditional friendship and expand mutually beneficial co-operation to achieve common development and prosperity," said Ethiopian Prime Minister Meles Zenawi while reading out another part of the declaration.

"African countries reiterate that they adhere to the one-China policy and support China's peaceful reunification," said Meles. Ethiopia is the co-chair of FOCAC.

The declaration also called for a bigger role for Africa in the United Nations and called on developed nations to increase their help to the continent.

"We urge the developed countries to increase official development assistance and honour their commitment to opening markets and debt relief to enhance Africa's capacity in poverty and disaster reduction and prevention and control of desertification, and help Africa realize the UN Millennium Development Goals," said Meles.

Egyptian President Hosni Mubarak, who also read out part of the declaration, said: "We hold that the establishment of a new type of strategic partnership is both the shared desire and independent choice of China and Africa, serves our common interests and will help enhance solidarity and mutual support and assistance."

The new strategic partnership between China and Africa features "political equality and mutual trust, economic win-win co-operation and cultural exchanges," according to the declaration.

The action plan is the roadmap for bilateral co-operation in the next three years in the political, economic and social sectors.

Politically, China and Africa agree to maintain high-level contacts and exchange views on international affairs.

The economic partnership covers agriculture, investment, business co-operation, trade, finance, infrastructure construction, energy and natural resources.

In the social sector, the action plan includes development and assistance, debt reduction, training of professionals, culture, education, public health, environmental protection, and tourism.

The Chinese and African leaders also attended two roundtable sessions yesterday at the Great Hall of the People.

President Hu told African leaders that the Beijing Summit has laid a solid foundation for building a durable and stable strategic partnership.

China, which is a developing country, considers the unity of, and co-operation with, developing countries the cornerstone of its diplomatic policy, he said.

China will forever be a reliable partner for promoting peace and stability in Africa, achieving development and prosperity in Africa and supporting Africa to play its part in international affairs, said Hu.

African leaders at the meeting said they welcomed China's help and greatly appreciated its commitment to opening its markets to African commodities and encouraging Chinese investment in Africa.



| | | |
| --- | --- | --- |
| 1 | 2 | |