Preserving the right to be a mother or pocketing a decent salary is the dilemma facing China's white collar pregnant working women.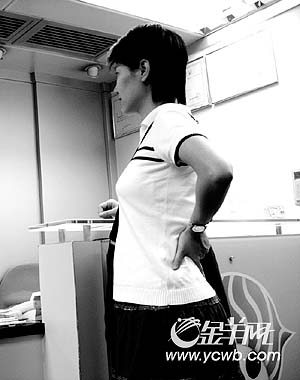 Pregnant Luo is fired by her company. [ycwb.com]
A 33-year-old woman surnamed Luo who was employed by a Hong Kong based company as a marketing director filed a lawsuit against her employers after she was fired because she was two months pregnant, writes ycwb.com on November 2.
Her boss, surnamed Zhang, said her pregnancy was detrimental to her career, says the web site.
In China, a country where women hold up half the sky, the employment rights of pregnant women have been brought into the limelight with frequent rights infringement cases reported, especially in private and foreign funded companies.
Most of them are either ordered to leave without any explanation or their bosses lower their monthly salary, according to previous media reports.
Chinese labor law stipulates that a company cannot breach a contract with a woman during her pregnancy, delivery or breast-feeding period. If a company violates the law and the bilateral contract, the woman is entitled to file a suit against her company. But lawsuits always end with bitter results.
Labor arbitration can take anywhere from four or six months and many women abandon protecting their rights.
"Some companies will fire a pregnant woman as she cannot finish a full contract. If a woman becomes pregnant in the middle of the contract, some will move her to other departments with a lower salary and force the woman to quit, according to workers at a mediation committee as reported on the web site.
Luo signed a one-year contract with her company with a monthly salary of 12,000 yuan (US$1500). On September 10 this year she found out she was two months pregnant and told Zhang. Instead of a respite, she got fired.
According to ycwb.com, Luo was asked to have an abortion or quit her job. She was offered no other choice.
The 33-year-old gave up her good salary because she was not willing to abandon her chance of being a mother.
Her efforts in negotiations with Zhang failed, reported the web site.
"As a thirty-something woman, I have a slim chance of being recruited by other companies and my maternity leave cannot be guaranteed," Luo said. "The move hurts me."
According to Zhang's secretary, the procedure was based on company policy and the company had no comment.
Zhang denies his company's move was related to Luo's pregnancy, adding it was the result of her poor work performance.
The case continues and workers at the mediation committee support Luo, saying a woman losing her job due to pregnancy has the right to bring the company to court.