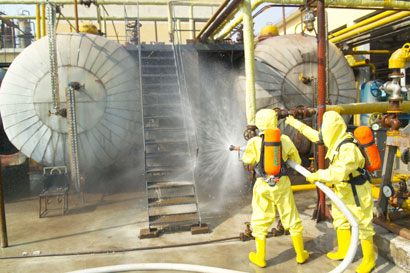 Firefighters in protective gears wash the site to reduce ammonia leak at Dawu county in central China's Hubei Province November 1, 2006. [newsphoto]



DAWU, Hubei -- About 20,000 residents in central China 's Hubei Province were evacuated after an ammonia leak at a fertilizer factory on Wednesday that has left one dead and six injured.

The leak occurred around 7:50 a.m. in a nitrogen fertilizer factory in Dawu County when an ammonia pipe broke, said Chen Yixin, assistant general manager of the Huangmailing Phosphorus Chemical Industry Group Company, which owns the factory.

A factory worker died at the site. The injured included three factory workers, a fire fighter, a 16-year-old middle school student who was on her way to school at the time, and a pregnant woman in a nearby village.

All the injured are out of critical condition.

The leak was stopped at 8:40 a.m. after workers closed the valve of the pipe.

About 10 tons of ammonia gas leaked, according to Chen.

The factory was located in the south of the county. The gas spread quickly to the southern county due to the foggy and windy weather.

Students in nearby schools and residents near the factory were immediately evacuated with the help of local public security, fire fighters and health workers.

Fire fighters sprayed water into the air in shifts to dissipate the gas. The smell of ammonia was still in the air at the factory on Wednesday evening.

Meanwhile, evacuees began to return home from Wednesday evening.

The cause of the incident is being investigated.

Ammonia has a very strong odor in large quantities. Low levels of ammonia in the air may harm asthma sufferers and other people with health problems, and high levels may cause lung damage or death.