Believe it or not, in China, there is a group of people who are envious of AIDS patients. They are Hepatitis B carriers.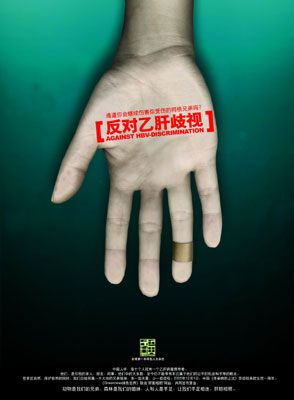 A poster calling for no discrimination against Hepatitis B carriers. [baidu]
Li Meng (alias) says that if he had never taken the physical that alerted him to his Hepatitis B status, he would have been able to take part in his postgraduate examination, possibly gotten admitted to a better company, and would still have his girlfriend, writes the Oriental Outlook on October 31.
Li's words reflect the tough lives of China's 120 million Hepatitis B virus carriers in a nation that still shuns them.
Just weeks ago, the 15 middle schools in Urumqi, northwest China's Xinjiang Uygur Autonomous Region, demanded that 19 students quit school because they were confirmed to be HB carriers, which sparked hot debate on student's rights, or more accurately, the rights of HB carriers.
"The situation for AIDS patients is better than our situation because society shows them care and mercy, but we only get discrimination," a carrier told the magazine.
"I hope to be free from discrimination," says another carrier.
Physical checkups are now a method used to root out possible employees who carry the HB virus, according to the magazine.
Some companies will definitely say no to potential employees who are diagnosed as carriers, it said.
Some 30 million people in China have full-blown Hepatitis B, according to media reports.
China has launched a campaign to protect the rights of the virus carriers and calling on the whole nation to respect them.
According to the drafted Law of the People's Republic of China on the Prevention and Treatment of Infectious Diseases in 2004, any company or individual cannot discriminate against HB carriers or suspected carriers.
China's Health Qualifications for Hiring Civil Servants stipulates relevant departments must prevent discrimination and accept carriers who are qualified.
But situation is still difficult for China's top leaders.
Some 47 per cent of HB carriers are worried about their chances of finding satisfactory jobs or pursuing their studies. Fifty-two per cent are affected by social discrimination and have been rejected for their dream jobs.
Insufficient knowledge about the disease is to blame for the nationwide discrimination.
It is caused by the hepatitis B virus that attacks the liver. The virus is transmitted through blood and infected bodily fluids. This can occur through direct blood-to-blood contact, unprotected sex, use of unsterile needles, and from an infected woman to her newborn during the delivery process, according to the official www.hepb.org
There is also a safe and effective vaccine to protect you and your loved ones against hepatitis B. Meanwhile, hepatitis B is not spread through casual contact, such as hugging, touching, sneezing, coughing.
Discrimination has resulted in some extreme behavior in Chinese society. The Health Qualifications for Hiring Civil Servants was aimed at quelling disparity and unfairness in the process of public servant recruitment.
In 2003, Zhou Yichou was turned down for a job as a public servant though he successfully passed all the exams and interviews after he was diagnosed with the HB virus. He questioned the recruitment officer about the fairness of the decision, and when he didn't receive a satisfactory answer, stabbed him to death. Zhou was sentenced to death and was asked to pay 68,000 yuan in compensation to the victim's family.