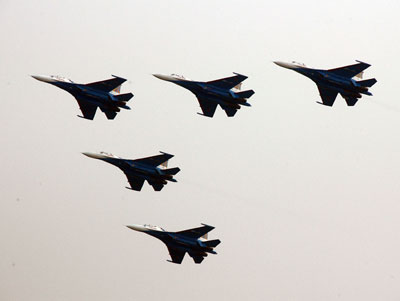 Pilots with the guest Russian Air Force "Knights" Aerobatic Team stage aerobatics to mark the grand opening of the Airshow China 2006 in Zhuhai, southern China's coastal city, on October 30, 2006. [newsphoto]



ZHUHAI, China - Russia's aerospace companies were out in force as the world's aircraft makers gathered Monday for China's biggest air show, looking to the booming Chinese market to drive sales as their industry's growth slows elsewhere.

Boeing Co, Airbus Industrie and other companies from 18 countries were displaying aircraft, engines and other equipment at the five-day exhibition, which starts Tuesday in this southern Chinese boomtown near Hong Kong.

Russian companies were displaying warplanes and civilian aircraft, as well as missiles and military electronics, reflecting China's status as Moscow's leading arms export market and Russian ambitions to expand in commercial aviation.

Russian companies were showing civilian cargo and passenger planes and a giant military transport, while Boeing and Airbus displayed only scale models of their planes, with no full-size aircraft. A five-member Russian military aerobatics team flying supersonic Sukhoi-27 fighters was scheduled to perform.

China is expected to be the fastest-growing market for commercial aircraft over the next two decades. Chicago-based Boeing said last week that it expects carriers to purchase 2,900 new planes worth $280 billion over that period.

Held every two years, the Zhuhai show is a platform for newcomers looking for a foothold in China's aircraft market and for its own fledging industry to show off its products.

Airbus, struggling with costly delays in its super-jumbo A380 jet, got a boost last week when China signed a deal last week to buy 150 A320 planes. At the same time, Toulouse, France-based Airbus signed agreements to open a final assembly line in China, its first outside Europe.

In Zhuhai, Airbus was displaying a 9-foot-long model of the A380.

Also on hand was Brazil's Embraer SA, a maker of midsize regional jets that in 2004 became the first foreign aircraft maker to set up a Chinese factory. It was showing one of its 190-model jets.

The exhibition also showcased dozens of companies from China's state-run aerospace industry, which is struggling to raise the level of Chinese military technology and break into export markets.

Displays included a model cabin of an ARJ-21, which is meant to be China's first contender in the market for regional jets. The plane, which reportedly is to seat 78 to 105 passengers, is made by China Aviation Industry Corp., also known as AVIC I. The company hasn't said when it expects to bring its first models to market.

An executive of another military aerospace company, China Aviation Industry Corp. II, or AVIC II, said it is looking for partners as it tries to expand civilian exports.

"We will combine research and production in military and civilian fields, but we will focus on civilian aircraft, and we also will expand our exports," Li Shentian, director of the company's General Office, said at a news conference.

"We would like to expand our cooperation with other companies," he said.

No Western makers of military aircraft took part at Zhuhai, apparently due to US and European weapons embargoes imposed on Beijing after 1989.

The Russian pavilion included booths for makers of Sukhoi and MiG fighter jets, anti-ship missiles, radar and military avionics, as well as Tupolev and Ilyushin passenger and cargo planes.

China accounted for 45 percent of Moscow's $6 billion in arms exports last year as Beijing upgraded its arsenal with Russian fighter jets, submarines and other high-tech weaponry, according to the Stockholm International Peace Research Institute, a think tank.

But despite Russia's prominent displays in Zhuhai, there was no indication that Mosow would be showing its most advanced aircraft, such as the Sukhoi-33 and 35 fighter jets.