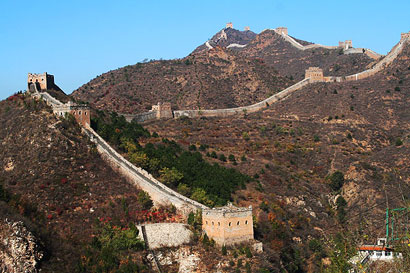 The Simatai section of the Great Wall. [chinadaily.com.cn]


China plans to use satellites and other high technology to check the length of the Great Wall and find ways to better protect the country's most famous landmark, a government agency said Monday.

The wall weaves for thousands of miles through a dozen provinces and regions across northern China. The wall, really many unconnected walls collectively known as the Great Wall, traverses remote areas, making its exact length and actual condition difficult to assess.

"We will use remote sensing, aviation and information technology. Scientific analysis allows us to grasp the current condition of the Great Wall and update the current regulations on its protection," Tong Mingkang, vice director of the State Bureau of Cultural Relics, said in an online interview posted on the central government's main Web site.

Tong said the survey could take two to three years. Although many previous surveys have been conducted, he said large sections of the wall were not properly protected due to a lack of detailed information.

"It's imperative to hold such a large-scale investigation to build up a scientific and integral record for the Great Wall," he said.

The earliest sections of the wall were built more than 20 centuries ago to guard against Mongols and other invaders. Other sections were added over the centuries, while many parts have fallen down or been pulled down by villagers who used the bricks to build houses.

Its length has been estimated at from 3,000 to 4,000 miles, but some guidebooks say dilapidated sections in remote areas have been discovered as recently as 2002.

Tourist encroachment also has been a problem in recent years, with state media saying that near Badaling, north of Beijing, almost every brick on a popular section of the wall has been carved with people's names or other graffiti.

State media reported earlier this year that China planned to recruit local villagers to guard against vandalism.