ASEAN, Chinese leaders fete relations
By AP/Xinhua
Updated: 2006-10-30 14:56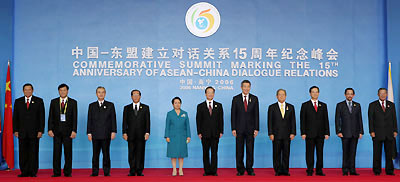 Chinese Premier Wen Jiabao (C) and heads of 10 ASEAN countries have group photos taken prior to the Commemorative Summit marking the 15th Anniversary of ASEAN-China Dialogue Relations in Nanning, capital of southwest China's Guangxi Zhuang Autonomous Region, on October 30, 2006. [Xinhua]



NANNING - Chinese Premier Wen Jiabao met Monday with Southeast Asian leaders in southern China's city of Nanning for a summit showcasing Beijing's increasingly close ties with its neighbors.

The one-day talks, held to commemorate 15 years of formal ties between China and the Association of Southeast Asian Nations, or ASEAN, were expected to focus on progress toward expanding regional free trade.

Wen said in his opening remarks that over the past 15 years, relations between China and ASEAN have evolved from removal of misgivings to commencement of dialogue to enhancement of mutual trust and to the final establishment of strategic partnership. [Full text of Wen's speech]

"Relations between China and ASEAN have never been as good asthey are today," he said.

Wen said the two sides have greatly enhanced mutual political trust, conducted fruitful trade and economic cooperation, made steady progress in building free trade area and expanded exchanges and cooperation in all fields.

China-ASEAN relations are a "fine example" of friendly exchanges and cooperation between countries in this region, and have brought real benefits to the peoples of China and the ASEAN countries, Wen said, adding that the relations also made important contribution to peace, stability and prosperity in Asia and the world as a whole.

He said the purpose of the summit is to look back and sum up the achievements and experience of China-ASEAN relations in the past 15 years and together chart the course for future cooperation.

"I will be happy to work with President Gloria Macapagal Arroyo and other colleagues to make our meeting a fruitful one, linking the past with future and raising our strategic partnership to an even higher level," he said.

Arroyo, president of the Philippines that holds the rotating presidency of the ASEAN, also delivered a speech at the opening ceremony.

But the dispute over North Korea's nuclear program and other tensions were also on the agenda, officials said.

China's Foreign Ministry said the leaders planned to issue a joint statement setting a blueprint for future cooperation.

Wen met with counterparts from Singapore, Indonesia, Malaysia and Cambodia on Monday before the summit's opening.





| | | |
| --- | --- | --- |
| 1 | 2 | |