NANNING -- China and ASEAN leaders are gathering in Nanning for a high-level summit meeting on Monday, with the aim to pursue regional free trade and enhance political mutual trust.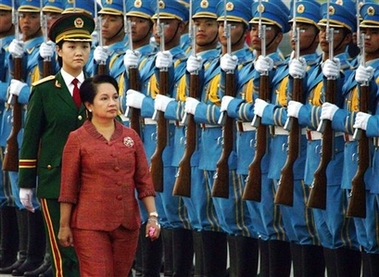 Philippine President Gloria Macapagal Arroyo inspects the Chinese guard of honor as she arrives to attend the Commemorative Summit marking the 15th Anniversary of the China-ASEAN, Association of Southeast Asian Nations in Nanning, southern China Sunday Oct. 29, 2006. Chinese Premier Wen Jiabao will hold bilateral meetings with the leaders respectively on the sidelines of the summit, which aims at summing up their bilateral friendship relations and drawing up future development course of China-ASEAN relations. [AP]

Chinese experts on international studies believe that the summit to mark the 15th China-ASEAN Dialogue Relations will push the China-ASEAN strategic partnership to a new level.
Six of the 10 ASEAN country leaders have already flown to the city by the press time for the summit include prime ministers of Cambodian, Singapore, the Laos, Myanmar, Malaysia and president of the Philippines. Leaders of the remaining ASEAN members are expected to arrive here late Sunday or Monday.
This is the first time leaders from China and the ten ASEAN member countries to convene in China. They are widely expected to chart a future direction of China-ASEAN relations in the coming years.
Chinese Premier Wen Jiabao will hold bilateral meetings with the ASEAN countries leaders respectively on the sidelines of the summit.
The third China-ASEAN Expo and China-ASEAN Business and Investment Summit are to kick off on Tuesday.
By 1991, China established diplomatic ties with all members of ASEAN. It became ASEAN's all-around dialogue-partnership country in 1996. Currently, China and ASEAN are bent on cementing the " strategic partnership oriented to peace and prosperity".
According to Chinese statistics, China-ASEAN bilateral trade grew 20 percent annually over the past 15 years, reaching 130 billion U.S. dollars last year, 15 times the figure in 1991. China is now ASEAN's fourth largest trading partner and ASEAN is China's fourth largest as well.
The trade volume is expected to reach 200 billion US dollars by 2008, two years ahead of schedule, as construction of the China- ASEAN free trade area is surging ahead.
Under a free trade framework agreement, by 2010, China and six old ASEAN member nations -- Brunei, Indonesia, Malaysia, the Philippines, Singapore and Thailand -- will impose zero tariffs on most normal products, while China and the other four new ASEAN members -- Cambodia, Laos, Myanmar and Vietnam -- will do the same in 2015.
The World Bank has predicted that China-ASEAN free trade area, upon completion, will turn to be one of the most influential powers in the Asia-Pacific economic rim.