Official: Pandas will go to Taiwan
(Xinhua)
Updated: 2006-10-29 19:16
BEIJING -- The Chinese mainland is confident that giant pandas will eventually set foot in Taiwan despite obstacles posed by Taiwan authorities, said an official with the Taiwan Affairs Office of the State Council.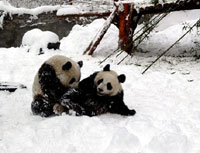 Giant pandas Tuan Tuan and Yuan Yuan play in the Wolong Giant Panda Breeding Center in Southwest China's Sichuan Province in this February 21, 2006 photo. [Xinhua]


Preparations for the donation of the panda couple, Tuan Tuan and Yuan Yuan, are continuing. Several Taiwan non-governmental communities have been working to the same goal, said Dai Xiaofeng, director of the office's communications bureau, at a book publishing ceremony.

The office has also sent staff to visit the panda breeding base in southwest China's Sichuan Province.

"We are confident the pandas will go to Taiwan because we believe cross-Strait relations have a promising future and the pandas will contribute to that," said Dai.

The mainland is offering Taiwan a free gift of giant pandas Tuan Tuan and Yuan Yuan, who were selected from 23 candidates in January and were given their names after a public vote in March. Tuan Tuan and Yuan Yuan currently live at the Wolong China Giant Panda Research Center in Sichuan.

However, Taiwan authorities said in January that the giant pandas could not enter Taiwan without permission.

The giant panda, found only in China, is one of the world's most endangered species. It is estimated that around 1,600 giant pandas live in the wild in China. There were 183 pandas in captivity on the Chinese mainland at the end of last year.

China has established 56 natural reserves for giant pandas with a total habitat area of 2.3 million hectares. The number of pandas in captivity will top 200 by the end of the year, according to Zhao Xuemin, deputy director of the State Forestry Bureau.

A book entitled "Giant pandas -- natural heritage of mankind" was published on Saturday, with chapters on the history of the giant panda, scientific research, protection measures, and the social and cultural significance of the unique animal.