World Bank to work with China to promote Africa's development
(Xinhua)
Updated: 2006-10-27 15:08
WASHINGTON - World Bank President Paul Wolfowitz on Thursday said his organization would work with China to promote Africa's development, and hailed the upcoming Beijing Summit of China-Africa Cooperation Forum.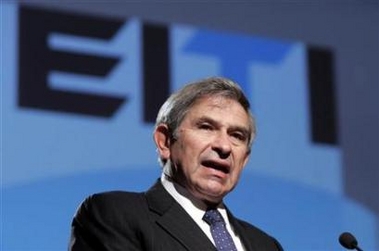 World Bank President Paul Wolfowitz speaks in Oslo, October 16, 2006. [Reuters]
"I think the summit is a terrific idea," said Wolfowitz in an interview with Chinese media. "I have been saying over and over again in speeches that Africa needs to be following the example that has been pioneered, especially in East Asia."
"I think if the last quarter century was the chance for East Asia to turn the corner in the fight against poverty, I very much hope that this quarter century will be the chance for Africa, Sub-Saharan Africa to do the same thing," he said.
He noted that there are several ways for World Bank and China to further cooperate to help Africa out of poverty.
"I think potentially one of the most valuable ways is if we can actually coordinate our mutual activities, and maybe even develop some joint activities," said the leader.
Meanwhile, World Bank will further communicate with China on African issues. "I think the more dialogue we have the better we can coordinate," said Wolfowitz.