Industrial and Commercial Bank of China (ICBC) lists in Hong Kong and in Shanghai after a world record share offer attracted massive demand and set up the stock for sharp early gains.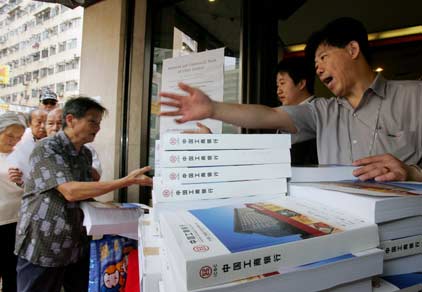 People line up outside a bank to get application forms and prospectus of the Industrial & Commercial Bank of China (ICBC) during its initial public offering (IPO) in Hong Kong October 16, 2006. [Reuters]
Analysts said the offer was snapped up by retail and institutional investors determined to get a piece of the China growth story and that means ICBC shares could post debut gains of 10-20 percent.
Investors have ignored ICBC's chequered history and warnings by China's top bank watchdog that an economic slowdown could increase risk and force lenders to step up efforts to rein in bad loans, they said.
ICBC priced its shares at HK$3.07 (39 US cents) in Hong Kong and 3.12 yuan (39 cents) in Shanghai, both at the top end of the indicative range to raise a world-record-breaking US$19.1 billion.
That tops the US$18.4 billion float by Japanese mobile phone operator NTT DoCoMo in 1998 and the proceeds could rise to nearly US$22 billion if an over-allotment option is exercised in full.
"There is a huge appetite for Chinese banks because investors see it as a proxy for buying into Chinese financial companies," said Howard Gorges, vice chairman of South China Securities in Hong Kong.
The offer drew several billion-dollar commitments, among them from some of the largest investment banks, the Kuwait and Qatar governments, Singapore's Temasek Holdings and Hong Kong tycoons such as Asia's richest man Li Ka-shing.
ICBC is the third of China's big four banks to list offshore after China Construction Bank, which came to Hong Kong last year, and Bank of China, which listed here in June and in Shanghai in July, raising nearly US$14 billion in the process.
All those listings brought sharp early gains and investors are clearly hoping for a repeat performance -- Bank of China recorded a 15 percent rise on its first day while China Merchants Bank jumped 30 percent.
Additionally, ICBC's offer price is cheaper than the others, giving more room for a rise, according to analysts, who expect quick selling from retail investors seeking to lock in quick profits.
ICBC's valuation is some 15 percent lower than China Construction Bank and four percent cheaper than Bank of China on their listing.
On ICBC's long-term prospects, analysts said many investors simply believe the bank, with 800 billion dollars in assets, is too big to fail and will always be bailed out by Beijing if there is a real problem.
With more than 18,000 branches, 2.5 million corporate customers and 150 million individual clients, ICBC accounts for 15.4 percent of all loans extended in China -- a profile which makes a compelling case.
At the same time, others hope China's banking reforms will be able to clean up the hundreds of billions of dollars of bad debt accumulated in the days when commercial gain took a back seat to communist ideology and central planning.