WASHINGTON: Cai Wu, minister of the Information Office of the State Council, has called for more exchanges between China and the United States to ensure closer co-operation.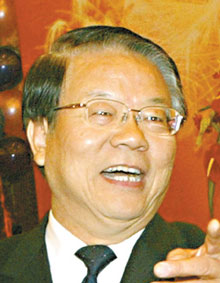 Cai Wu, minister of the State Council Information Office. [file]
The two countries should not only be "stakeholders" but also "constructive and co-operative partners," he said, adding that they share extensive common interests despite their differences.
"The differences in ideology, social systems and development modes should neither be an obstacle to our exchanges and co-operation nor a reason for confrontation," he said in Washington on Wednesday.
The minister made the remarks at an event sponsored by the Center for Strategic and International Studies, a US think tank.

When hosting his Chinese counterpart Hu Jintao at the White House in April, US President George W. Bush described the two nations as "stakeholders in the international system" that share many strategic interests.
Cai said developing Sino-US relations conforms to the interests of the two peoples and is conducive to promoting peace, stability and prosperity in the Asia-Pacific region and the world at large.
The two countries "should deepen their strategic dialogue and strengthen mutual understanding and trust to push bilateral co-operation to a higher and broader level," Cai said.
During last month's China trip by US Treasury Secretary Henry M. Paulson, Beijing and Washington decided to launch a new strategic economic dialogue, following the political dialogue that was started in 2005.
Cai said China had successfully embarked on a road of peaceful development compatible with its national conditions since the policies of reform and opening-up were introduced in the late 1970s.
China's GDP has increased from around US$216.5 billion in 1978 to US$2.23 trillion in 2005 at an average growth rate of 9.6 per cent per year. Per-capita GDP has risen from US$226 to US$1,700 in the same period.
However, Cai stressed that China's economic achievements should not be overestimated as the country still lags behind developed countries and faces many problems in economic and social development.
China, with a population of 1.3 billion, has a weak economic foundation and unbalanced development, and remains the largest developing country in the world,
"At present, and for a very long period to come, China will have to give top priority to economic development," he told the audience.
"If you come to recognize this, all versions of the 'China threat' will become groundless talk."