President Hu Jintao and his visiting French counterpart Jacques Chirac yesterday witnessed the signing of deals worth billions of dollars and agreed to deepen the two countries' "comprehensive strategic partnership."
They hailed bilateral ties as a "paragon of friendly co-operation between countries with different historical backgrounds, cultural traditions and development levels" after nearly two hours of talks at the Great Hall of the People.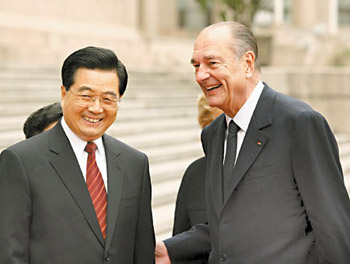 President Hu Jintao greets visiting French counterpart Jacques Chirac during a welcome ceremony in front of the Great Hall of the People in Beijing yesterday. [China Daily] [More Photos on Chirac visit]
The presidents signed a joint declaration which is expected to become the blueprint for the development of bilateral relations in the political, economic and cultural sectors.
The two sides agreed that their economic partnership would cover seven major fields: energy (nuclear energy, oil and power), aviation and aerospace, railways, telecommunications, financial services, agriculture and food processing as well as environmental protection.
High-ranking officials and chief executives signed 14 agreements in the presence of the leaders, ranging from the purchase of Airbus planes to prevention of infectious diseases.
China agreed to buy 150 aircraft from the narrow-body A320 family of Airbus, which also signed a deal with China to set up an assembly plant in Tianjin, the only such factory outside Europe.
The agreement also involves options for 20 A350s, which is Airbus' response to market demand for a medium-capacity long-range wide-body family available from 2012.
China ordered 150 single-aisle Airbus aircraft worth US$10 billion in December 2005 when Premier Wen Jiabao visited Airbus' headquarters in Toulouse, France.
The French engineering firm Alstom signed rail and hydro-electric deals worth a combined 400 million euros (US$505 million), including the sale of 500 freight locomotives worth 300 million euros (US$378 million).
Chirac, who arrived in Beijing on Wednesday for a four-day state visit, was welcomed by Hu with a full military parade early yesterday.
They met the press after witnessing the signing of agreements.
Hu said that the expanded economic and trade co-operation would enable the two countries to achieve the goal of annual bilateral trade of US$40 billion ahead of the target year of 2010.
Bilateral trade was US$20.65 billion last year.
Hu expressed appreciation for France's one-China policy, its recognition of China's market economy status as well as efforts at lifting the European Union (EU) arms embargo on China.
"Europe's arms embargo is not in line with current Sino-European relations, and France will continue to push the EU to lift the ban soon," China's Foreign Ministry spokesman quoted Chirac as saying in talks with his counterpart.
Politically, China and France agreed to promote multilateralism to cope with global challenges and increase co-ordination in the Security Council of the United Nations to solve regional crises. Both are permanent members of the Security Council.
They expressed "grave concern" over the nuclear test conducted by the Democratic People's Republic of Korea on October 9, and urged concerned sides to solve the problem peacefully through dialogue and consultation and make efforts to restart the Six-Party Talks in an early date.
In the joint statement, the two countries promised to increase constructive dialogue on human rights and welcomed the role of the Sino-European human rights dialogue mechanism. Judicial bodies will initiate negotiations on signing a repatriation treaty.
Top legislator Wu Bangguo and Premier Wen also separately met Chirac yesterday.