General Motors leads the pack in China, the world's fastest growing auto market. But GM is in no position to shift into cruise control.
The company's Asian rivals -- Toyota, Honda and Hyundai -- are coming on strong. Volkswagen, the former top dog in China, has bounced back with new models.
Ford's China sales are surging. And domestic carmakers are steadily gaining market share as they strive to build reliable, low-cost vehicles.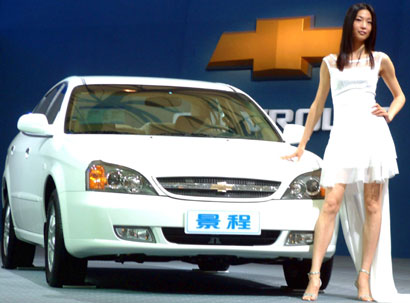 A models poses besides a Chevrolet car at an auto show in Shanghai in this 2005 file photo. [newsphoto]


Fierce competition has driven down auto prices in China. An oversupply of vehicles looms as automakers rush into the market and bring more production capacity online, analysts say.

GM has its hands full in China's cutthroat market as it tries to offset slipping share and big losses in the US, observers say.

"China is the wild, wild West of the automotive industry," said Bruce Belzowski, an auto industry researcher who works at the University of Michigan's Transportation Research Institute.

"It's a tough market because every global manufacturer is there and Chinese companies are there. GM is looking over its shoulder at everyone."

China's year-over-year vehicle sales rose 25% to 5.17 million units the first nine months of 2006, said the China Association of Automobile Manufacturers. GM's sales in China climbed 36.7% from January to September to 645,000 vehicles.

But third-quarter sales rose just 17% vs. a year before to 192,000. Its market share slid to 11.4%, down from 12% in the second quarter. Still, that's up from 9.6% in 2004.

"Our market share is down slightly but our overall position in China is one we like," said GM CFO Frederick Henderson, on its earnings call Wednesday. "It's a challenging environment."

GM reported a narrower third-quarter net loss Wednesday, citing improving North American operations. Adjusted earnings were much better than expected. But shares fell 4% after surging 8.5% in the prior two sessions.

Volkswagen's year-to-date car sales in China are up 28.7% to 455,700. Honda, No. 3 in China, underperformed. Its nine-month sales rose 18.5% to 226,000. Hyundai sold 211,000 vehicles, up 23%.

Toyota, which was late to China, is making up for lost time. Sales nearly tripled to 203,000 vehicles.

Ford's sales more than doubled to 114,600 units. But Mazda, its Japanese unit, is ailing. Its nine-month sales in China fell 9.2% to 89,930.

Ford is building a new factory in China. To lower manufacturing costs, it will share production among Ford, Volvo and Mazda.

China opened its auto market after joining the World Trade Organization in 2001. Consumer purchasing power is highest in the country's prosperous coastal urban areas. Car sales also have picked up in poorer inland areas.

Autos Sell Well

GM and other foreign carmakers have raked in tidy profits for high-end passenger cars. GM rolled out the Buick Regal, while VW's Audi division does well with its A6 sedan. Honda plans to sell its Acura luxury models in China.

Popular cars include Volkswagen's Jetta, Hyundai's Elantra and Toyota's Camry.

With many new models hitting the market, automakers are offering discounts to lure China's consumers. The price of GM's Chevrolet Spark minicar fell 22% to $5,800 in 2005, analysts say. High-end models that might have cost $40,000 a few years ago, like the Regal, have fallen to about $26,000.

"Competition has kicked in. People can choose from 120 models now," said Michael Dunne, president of Automotive Resources Asia, a consulting firm that was recently acquired by J.D. Power & Associates. "There's a lot of pressure on pricing, which is coming down double digits each year."

'Mini' Ventures Big For GM

GM overtook Volkswagen as No. 1 in China last year after forming joint ventures with domestic firms that make minivehicles. Dunne said some industry analysts still view VW as No. 1 in passenger cars.

GM sells vehicles under several brands, including Cadillac, Chevrolet, Buick, Saab and Opel. One of its hot sellers is a $5,000 minivan that gets more than 40 miles a gallon in city driving, but is plagued by poor acceleration.

GM Daewoo, based in South Korea, has helped GM's China push. Its popular Excelle compact cars are assembled in China from kits supplied by its Daewoo unit. Daewoo's expertise has made GM competitive on manufacturing costs, Dunne said.

Meanwhile, China's homegrown carmakers are steadily gaining share and know-how -- partly due to their alliances with GM and other foreign companies. They're led by Shanghai Automotive, First Automobile Works and Dongfeng Motor.

Other up-and-comers include Chery and Geely, which specialize in cheap cars priced as low as $3,000.

"There's tremendous price competition at the crowded, lower-end part of the market. It's nasty," Dunne said. "But there's less of a threat from Chinese competition as you go up the ladder into the luxury market."

Chinese companies dominate production of commercial vehicles, where profit margins are thin. The country's cities and provinces compete with each other to create local industries. More than 100 startups that make cars have popped up in China, by one estimate.

"There's going to be a shakeout," Belzowski said. "The foreign companies have deep pockets. They can survive longer than the smaller guys."

Here Comes Toyota

GM's biggest rivals are carmakers from Japan and Europe. The latter includes France's Peugeot, which has outlined big goals in China.

Honda has been in China longer than any other Japanese carmakers. It formed a joint venture in 1998. China's government requires that foreign carmakers form ventures with local companies.

Most analysts say Toyota is GM's biggest worry. They expect Toyota to overtake GM as No. 1 in China between 2008 and 2010.