Top prosecutor to head anti-graft body
(Xinhua)
Updated: 2006-10-25 18:54
The International Association of Anti-Corruption Authorities (IAACA), announced its establishment on Wednesday.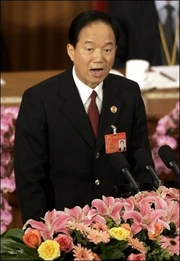 Jia Chunwang, China's top prosecutor has been elected to head an international anti-corruption body. [file]

Jia Chunwang, head of China's Supreme People's Procuratorate, was elected president of IAACA at the ongoing conference.

The establishment of IAACA grew out of the United Nations Convention Against Corruption (UNCAC), which is scheduled to come into effect on December 14, said Dr. Ye Feng, member of Prosecutorial Committee of the Supreme People's Procuratorate of China.

The association will "promote international cooperation in gathering and providing evidence, in tracking, seizing and forfeiting the proceeds of corrupt activities and in the prosecution of fugitive criminals."

"IAACA is aimed at strengthening international cooperation between national anti-corruption authorities," Ye said, noting the IAACA is a non-profit organization which is independent, professional and non-political.

According to the IAACA constitution, it offers professional training programs on anti-corruption and aims to facilitate the dissemination of expertise and experience.

More than 900 delegates from 137 countries and regions and 12 international organizations are attending the five-day conference.