The Democratic People's Republic of Korea (DPRK) does not have any plan to conduct a second nuclear test, the Chinese Foreign Ministry said yesterday. [Read More on DPRK Nuclear Issue]
The assurance came after State Councillor Tang Jiaxuan, a special envoy of President Hu Jintao, met DPRK leader Kim Jong-il in Pyongyang last week, spokesman Liu Jianchao told a regular news briefing.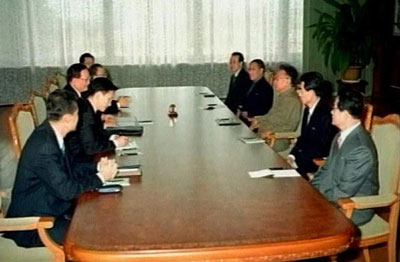 A video grab shows China's State Councillor Tang Jiaxuan (3rd from front L), special envoy of Chinese President Hu Jintao, speaking with North Korean leader Kim Jong-il (3rd R) in Pyongyang, North Korea, October 19, 2006. [Reuters]
"But if it faces pressure, the DPRK reserves the right to take further action," Liu said, citing Tang, but did not give any other details.
A second test has been widely believed to be a possibility. Earlier this month, US media reported that Pyongyang may be preparing for one, citing suspicious activity at a suspected test site in the country's northeast.
But the Republic of Korea's (ROK) Yonhap news agency reported yesterday that the US military had not detected signs of preparations for a second test.
According to Liu, Kim told Tang that the DPRK was willing to return to the Six-Party Talks aimed at making the Korean Peninsula nuclear free. Their talks were "frank," Liu said.
He pointed out that some media reports about Kim apologizing for the nuclear test on October 9 were "not accurate."
ROK news reports said the DPRK leader had expressed regret for the test during the visit by Tang, who delivered a personal message from President Hu.
In response to questions on how China would implement UN resolution 1718 that imposed sanctions on Pyongyang, Liu said China would take practical measures to do so in a responsible manner.
"However, sanctions are not the purpose. They should serve the goal of peacefully settling the crisis through dialogue and consultation," Liu said.
He asked parties concerned not to wilfully interpret, or expand, the sanctions and escalate the crisis.
Liu said China has no plan to stop food and oil assistance to Pyongyang, noting that the UN resolution does not apply to normal trade between the two countries.
He also confirmed that Ban Ki-moon, the ROK foreign minister, would arrive in Beijing on Friday for talks with his Chinese counterpart Li Zhaoxing on the nuclear stalemate. He will also meet President Hu and State Councillor Tang.
The trip by the 62-year-old senior diplomat, who is set to become the next UN secretary general, is part of a recent flurry of shuttle diplomacy to seek peaceful solutions to the Korean nuclear issue.
Ban reportedly said he plans to use his position as the UN chief, which he will assume at the beginning of next year, to "seek an active role for the peaceful resolution of the Korean nuclear issue."
Liu also announced that Russian Prime Minister Mikhail Fradkov would visit China on November 9 and 10 for a regular meeting with his Chinese counterpart Wen Jiabao and a ceremony to mark the conclusion of the Year of Russia in China.
WB allegation refuted
Liu rejected criticism by World Bank President Paul Wolfowitz, who alleged Chinese banks were ignoring human rights and environmental standards when lending in Africa.
"The accusation is groundless," said Liu, reiterating China's policy of not interfering in the internal affairs of other countries.
"China will neither let other countries impose their values, social systems or ideologies on itself nor do a similar thing to other countries," Liu said.
| | | |
| --- | --- | --- |
| 1 | 2 | |