Philippe Guelluy has hardly had a moment to himself since he came to Beijing two years ago as French ambassador.
And these days are especially hectic, with French President Jacques Chirac arriving in Beijing tomorrow on his fourth visit to China.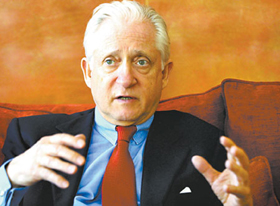 The central government's curbs on foreign investment in the real estate sector have yet to dampen institutional investors' ardour for purchasing properties in Shanghai, according to industry experts. [China Daily]

On the top of Chirac's agenda, to be discussed during some six hours of meetings with President Hu Jintao, will be both international issues and bilateral relations, Guelluy told China Daily in an exclusive interview at his residence.

One of the major international issues will be the non-proliferation of nuclear weapons, especially in relation to Iran and the Democratic People's Republic of Korea. The latter carried out its first nuclear test on October 9 arousing concern around the world.

As far as bilateral issues are concerned, "on this important occasion, we want to confirm what we have done during the past years and build for the future and improve our relations politically, economically and culturally," said Guelluy.

Several agreements will be signed "to demonstrate the quality of our relationship," not only in the economic sector but also in environment, finance and agriculture.

"We have seen a huge development of relations between Europe and China. And economic relations between France and China are also good," he said.

He conceded that problems exist especially in trade between the two countries, such as arguments over the trade in textile products, but he also noted that "it is a normal effect of globalization."

"Certainly, we can see problems here and there. Globally, the economic development of China is positive, and this is clear," he said, adding that a developed China would be able to co-ordinate with other countries on more international issues, such as some of those affecting Africa.

Guelluy said he believes China's development effected change across the world and that it must be viewed from a global perspective.

"The way your government is trying to preserve healthy economic growth considering your huge population particularly trying to limit the negative effects, such as the difference between the countryside and the city, pollution problems, and so on, is very challenging," he said.

"If China manages to continue on this path, while limiting the negative effects, it will be a huge success."

It is difficult for us to foresee things in the year 2020, but it is interesting to observe, he added.

So much so that Guelluy said it was "very easy to be French ambassador to China."

Although he had been to China regularly on security matters, disarmament or other issues, he said he was still pleasantly surprised when he arrived as ambassador two years ago.

"I don't feel like I'm in a foreign country," he said. "Our mentality is quite close even though we are geographically very far."

Of course, there is a lot of work. "Because you (the Chinese) work so much, we have to follow you," he said.

Over the past two years, on weekdays alone, he has entertained more than 3,800 guests mainly Chinese at lunches, dinners or working cocktails at his residence.

"Now we have three chefs here, but years ago we had only one," he said with a proud smile. "They are all Chinese. The chief is very good. He knows French cooking. The two others are good, they too know the French way."