China National Offshore Oil Corp (CNOOC), the nation's third-biggest oil company, has been authorized by the central government to take over China National Chemical Construction Corp (CNCCC) in a bid to boost its market share in the downstream business.
State-owned CNOOC acquired CNCCC "at no cost" to expand its presence in fertilizer production, research and international trade, but will not integrate the new business into its listed units for the time being, CNOOC spokesman Liu Junshan told China Daily yesterday.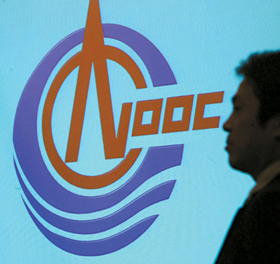 A man stands in front of a China National Offshore Oil Corporation logo during a news conference in Hong Kong on January 23. [Reuters]

CNOOC is the parent company of overseas-listed CNOOC Limited and Hong Kong-listed China BlueChemical Ltd.

"The merger will further consoli date CNOOC's fertilizer business and boost our competitiveness to become a world-class energy company," said CNOOC President Fu Chengyu.

The restructuring of two State-owned companies is an asset rearrangement by the State-owned Assets Supervision and Administration Commission, and involves no financial transactions, Liu said yesterday.

China's demand for fertilizer is ballooning as the world's most populous nation steps up agricultural production.

Fertilizer and chemical production are the core businesses of CNCCC, which has total assets of 2.7 billion yuan (US$342 million). Its sales reached 4.2 billion yuan (US$532 million) and its pre-tax profit was 130 million yuan (US$16.5 million) last year.

By the end of 2005, CNOOC had total assets of 191.4 billion yuan (US$24.2 billion), and its operational profit hit 38.8 billion yuan (US$4.9 billion) last year.

Although industry analysts have speculated that CNOOC may make the newly acquired business a part of its already listed fertilizer unit China BlueChemical, company spokesman Liu said it currently has no such plans.

China BlueChemical, the fourth business unit spun off by CNOOC, last month raised HK$2.66 billion (US$342 million) in an initial public offering in Hong Kong by selling 1.4 billion shares at HK$1.9 (24.4 US cents) each.

Hainan-based China BlueChemical plans to use the proceeds to develop new products, repay bank loans, and build a chemical production facility in North China's Inner Mongolia Autonomous Region.

China BlueChemical shares soared 10.702 per cent to HK$3.31 (42.5 US cents) yesterday on the Hong Kong stock exchange.

CNOOC, which is primarily engaged in offshore oil and gas exploration, is now working hard to strengthen its foothold in downstream sectors such as refining and petrochemical production.

Analysts said Chinese firms are striving to gain a bigger share of the nation's downstream oil and gas business as the Chinese Government has pledged to further open the market to foreign investors in accordance with its WTO commitments.

CNOOC announced the start-up construction last December of its first refinery with an annual processing capacity of 12 million tons in Huizhou, South China's Guangdong Province.

The project involves a total investment of 19.3 billion yuan (US$2.4 billion) and its annual sales are expected to reach 34 billion yuan (US$4.3 billion) after it comes on stream by 2008, the company said.

In addition to this refinery, CNOOC operates another large-scale petrochemical complex with Royal Dutch Shell in a 50-50 partnership.

The Shell-CNOOC petrochemicals complex, which is so far the largest joint venture project in China, became operational in March, involves a total investment of US$4.3 billion and will supply 2.3 million tons of petrochemical products every year to Guangdong and neighbouring provinces in southern China.